Pet Podcasts
Check Out






Susan Daffron
Founder, National Association
of Pet Rescue Professionals



Teddy - A Top Cat Tuxedo Cat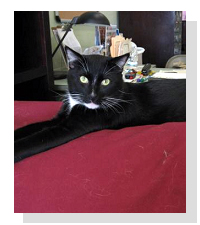 .......................................................
Teddy
Click for Info
Susan Daffron talks to Marcela Valdez from the Santé D'Or Adoption and Rescue group in Los Angeles. Teddy is a black and white "tuxedo" cat who was actually abandoned by another rescue on Santé D'Or's doorstep. Although he's been with the group for two years now, it's not because nobody likes him. Quite the contrary actually! Teddy is a big sweet, playful guy who gets along great with everyone. He even acts like "kitty Grampa" to the new kittens that come through the rescue. Teddy is an active cat that would enjoy a family environment where he is a full-time indoor kitty. Because he's a big male "alpha" kitty, he also probably should be "top cat" and not share his home with another adult male cat. Teddy is unphased by canines and even rubs up against some of the more mellow canine visitors that come his way at the rescue, so a new home with a dog shouldn't be a problem. Marcela is sure that the perfect home is out there waiting for Teddy. She hopes that soon someone will walk through the door who recognizes what everyone else already knows: Teddy is a great cat!


Questions or Comments? Send them to: SusanD@petliferadio.com.


Transcript will be available shortly.