Pet Podcasts
Check Out






Susan Daffron
Founder, National Association
of Pet Rescue Professionals



Kane - A Smart Happy "Bully Boy"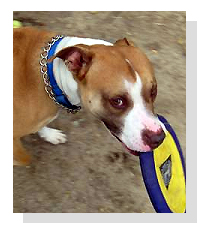 .......................................................
Kane
Click for Info
Susan Daffron talks to Judy Hutnik of the Animal Orphanage in Voorhees NJ about her "Pet Partner" dog named Kane. As a volunteer Pet Partner, Judy has been teaching Kane basic manners and giving him lots of exercise. Kane loves people and particularly playing fetch and frisbee. Because he is a bulldog/pit bull mix, he will need a owner that is willing to provide leadership and guidance, plus give him the exercise he needs. Kane's original owner went to jail, and this dog never really the love, attention, or training he deserved when he was a puppy. But thanks to Judy and the Pet Partner program, Kane is learning basic manners, how to walk on a leash, and commands like "sit" and "down." This handsome boy is learning quickly and is very eager to please. He will make a great companion for an active adult or family with older children..


Questions or Comments? Send them to: SusanD@petliferadio.com.


Transcript will be available shortly.