Pet Podcasts
Check Out






Susan Daffron
Founder, National Association
of Pet Rescue Professionals



Samurai - Maybe He's Just the Jindo for You?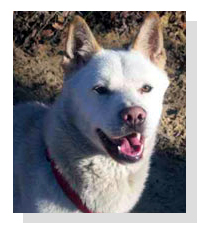 .........
Samurai

Susan Daffron talks to Alaire Garrison from the SPCA/HS of Prince George's County in Maryland about a 3-year old dog named Samurai who is available for adoption. Samurai (aka Sam or Sammy) is a rather unusual breed of dog called a Jindo. These dogs actually originated from the Island of Jindo in Korea where they were bred as hunting dogs. Sam is all white with cream-colored highlights and weighs in at about 45 pounds. He has a curly tail and pointy ears, so he looks somewhat like a small, white Akita.
Because of his hunting heritage, he probably would be best in a home without cats or other small animals. He is a bit dominant, but loves to play with sociable dogs. Ideally, he would have access to a dog park or a doggie day care where he could find playmates he can romp and play with. Sam is extremely affectionate with people he knows and is content to lie by your feet. In fact, Sam is laid back enough that he could even live in an apartment or condo, if he got daily walks and exercise to keep him physically and mentally happy. Sammy is a really sweet dog who is just looking for someone to love. (Maybe it's you?!)
Questions or Comments? Send them to: SusanD@petliferadio.com.


Transcript will be available shortly.