Pet Podcasts
Check Out






Susan Daffron
Founder, National Association
of Pet Rescue Professionals



Slammer - Former Racer Seeks New Career as Cherished Pet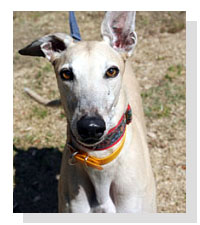 .........
Slammer

Susan Daffron talks to Barbara Masi from the Florida Chapter of Greyhound Pets of America, which is the largest single breed adoption group in the world. The organization is dedicated to finding homes for racing greyhounds that have retired from the track. Slammer is a six-year old male dog who raced under the name MPS Goldfinger. After that, he lived at a veterinary clinic for a while as a "donor dog." Because greyhounds are "universal" blood donors, many retired greyhounds spend some time helping out at clinics. After having two careers, Slammer is ready to retire completely in a new forever home. He is a gorgeous blonde "fawn" color and has big expressive brown eyes.
Slammer is a big boy weighing in at 77 pounds, but like most greyhounds he's very lean. (Greyhounds have a low percentage of body fat and thin fur, so being able to see their ribs doesn't mean they are "too skinny.") Slammer is a low-key dog and like most greyhounds doesn't need an exceptional amount of exercise. Retired racing greyhounds do need daily walks like any other dog, but they aren't particularly "hyper" dogs. In fact, although they like to play, many of them are large couch potatoes. Slammer has an easygoing personality and will make someone a wonderful companion. Barbara says that "greyhounds are like potato chips; you can't have just one!"
Questions or Comments? Send them to: SusanD@petliferadio.com.


Transcript will be available shortly.