Pet Podcasts
Check Out





Susan Daffron
Founder, National Association
of Pet Rescue Professionals



Teddy - An Outgoing Smart Bichon with a Big Smile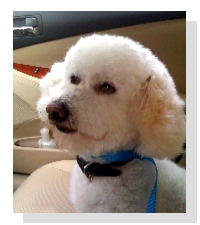 .........
Teddy

Susan Daffron talks to Marti Colwell from Bichon FurKids Rescue in California about a bichon named Teddy who is available for adoption. Teddy is a well-adjusted fluffy white bichon who had a great life until his "Mom" lost her job and then her house. (The current economic situation doesn't just affect humans!) Although she had owned Teddy for 11 years, when she could no longer afford to care for him, Teddy's Mom brought him to Bichon FurKids to help find him a new forever home. Teddy is in foster care and has adjusted well to his new surroundings. Teddy is housebroken and loves pretty much everybody.
Dogs, cats, kids, and adults are all just new friends for this active and happy little guy. Teddy has a big smile and likes playing with squeaky toys and going for walks. Although technically Teddy could be considered a "senior" dog, many bichons can live to be 18 or 20 years old. Teddy is in great health and his foster mom says he acts like a "young dude." Teddy is having meetings with prospective adopters, so Marti also mentioned a "bonded pair" of FurKids who may be available soon named Buster and Camille. If you are interested in adding a small white ball of love into your life, check out Teddy and the other bichons at the Bichon FurKids site.
Questions or Comments? Send them to: SusanD@petliferadio.com.


Transcript will be available shortly.