Pet Podcasts
Check Out






Susan Daffron
Founder, National Association
of Pet Rescue Professionals



Kane - A Handsome Retriever Who Loves People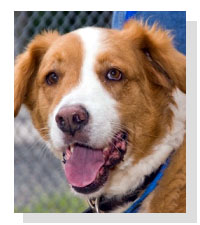 .......................................................
Kane
Click for Info
Susan Daffron talks to Angie Platten, a volunteer for the Prince William SPCA, in Manassas, Virginia about Kane, a strikingly handsome collie, golden retriever mix. Kane was found wandering the streets as a stray and taken to the shelter. He is an extremely easygoing, friendly young dog. In fact, everyone who has met him is surprised no one came to claim him! Kane doesn't't have an aggressive bone in his body and loves to play with other dogs. Although he doesn't seem to have much training yet, he is incredibly willing and loves to please. Because he's a big young dog, he does have a lot of energy, but he'd do well in a home with kids, since he seems to love humans of all shapes and sizes pretty much universally. If you are looking for a wonderful family dog that you can play fetch, go running, or swim with, listen to the show and hear more about this sweetheart.


Questions or Comments? Send them to: SusanD@petliferadio.com.


Transcript will be available shortly.