What's Black & White & Has Over 850,000 Instagram Fans? The Most Famous Frenchie!
Manny the Frenchie might like to sleep in sinks, but he doesn't have to. With 854,000 Instagram fans, Manny is one of the top celebripups on the planet. He's sought after by brands and the ladies love Manny. What a life! Find out all about it here.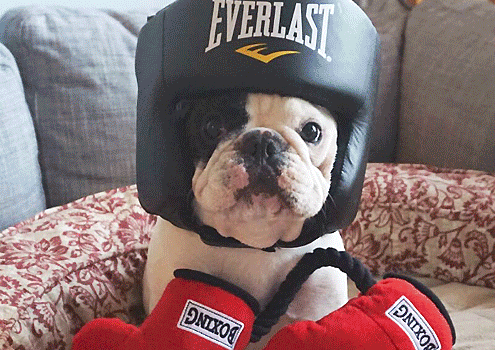 It's Me. Manny. My parents tell me I was named after the famous Filipino boxer, Manny Pacquiao. Happy they named me after him, because my muscles are very similar. They were about to name me Derrick. Because of the Chicago Bulls Derrick Rose is as quick as me. My parents still tell me I jump as high as him. Well, I love meeting new friends. My birthday is February 7th and I love bacon. I like to sleep in sinks. I have a little brother Frank. He's annoying. I also have an awesome older sister Leila, ...and my cool cousin Cooper.
I don't like long walks on the beach, but I like to walk to get some bacon. Sometimes I like to go on my Facebook account and read all your nice comments. Then I eat more bacon. One time I slept in the sink and I was dreaming I owned a bacon factory. I continue to try and sleep as much as I can so I can keep dreaming of bacon. Back to the sink.