Why Did George Clooney Choose a Senior Dog? Find Out His Story & Other Remarkable Senior Second Acts!
When George Clooney, Bruce & Jeannie Nordstrom, author Laura Coffey and photographer, Lori Fusaro went to choose their forever home dogs, they chose seniors. Why? They and veterinarian, Dr. Heather Loenser, will all tell you the benefits and more, when we talk about this wonderful book My Old Dog: Rescued Pets with Remarkable Second Acts.
Read more on the Bark & Swagger Blog!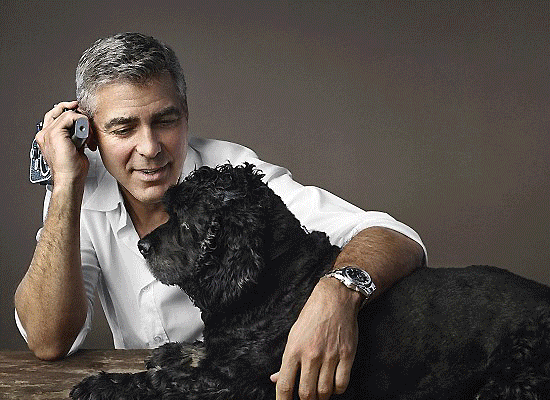 Author Laura T. Coffey
Laura T. Coffey is a self-avowed dog nut and a writer, editor, and producer for TODAY.com, the website of NBC's TODAY Show. A journalist with more than two decades of experience, Laura has written and edited hundreds of high-profile human-interest stories for TODAY.com since 2008.
Hallmarks of Laura's work are her authentic voice, her compassion, and her ability to get out of the way and let story subjects shine. In recent years, Laura earned first-place writing awards from the Society for Features Journalism and the Dog Writers Association of America, and headline-writing awards from the American Copy Editors Society.
Before she started writing for TODAY.com, Laura worked as a reporter, columnist, and editor for msnbc.com (now NBCNews.com), social issues editor at the Seattle Post-Intelligencer, deputy business editor at The San Diego Union-Tribune (now U-T San Diego), managing editor of The Prague Post in the Czech Republic, a reporter and editor at the Seattle Daily Journal of Commerce, a reporter at the Peninsula Clarion in Alaska, and a reporter and columnist for the St. Petersburg Times (now the Tampa Bay Times) in Florida. Her work also has appeared in The New York Times, the Chicago Tribune, PBS NewsHour Online, Best Friends magazine, and many other publications.
Laura lives in Seattle with her husband, Michael, their son, Tyler, and their two senior dogs, Frida and Manny.
Photographer Lori Fusaro
Lori Fusaro is such a dedicated advocate for homeless animals that she's been using her photographic skills to help them for more than a decade. Lori is a regular at overcrowded animal shelters in the Los Angeles area, where she's donated hours of her time photographing dogs and cats to increase their chances of getting adopted. Lori works as a staff photographer at Best Friends Animal Society-Los Angeles and runs her own business, Fusaro Photography, whose clients include DreamWorks Studios, Paramount Pictures and many animal-rescue organizations, including BAD RAP, Guide Dogs for the Blind, k9 Connection, and Angel City Pit Bulls. She also serves on the advisory council for HeARTs Speak, a group that connects artists with the animal-welfare community.
Lori has an uncanny ability to capture the personality and spirit of each animal she photographs. Just like people, some dogs are goofy and gregarious, while others are shy and quiet — and a Lori photo immediately helps you to sense what a dog is like. It's easy to see why Lori has been named Best Pet Photographer by Los Angeles HOTLIST for five consecutive years and has earned many other awards, including Top Portrait Photographer for 2008 and 2009 by FOX 11 Los Angeles KTTV-TV and 2010 Readers' Choice Award Winner from Tails' Pet Media Group.
The busy photographer's life changed forever in June 2012, when she was on her volunteer rounds at Carson Animal Care Center in Los Angeles County. There she saw Sunny, a 16-year-old dog who had been left at the shelter by her human family because she had a large cancerous tumor on her leg. Lori couldn't get Sunny's sad face out of her mind.
"So, I adopted her," Lori recalled. "My intention was to give her a few good weeks filled with love and to be there with her when she passed away."
But Sunny didn't die within a few weeks. Instead, she thrived for more than two years in Lori's care.
"Because of Sunny, I've been inspired to help other old dogs like her," Lori said. "That's how I got the idea for my senior-dog photography project. My goal was to inspire people to think about adopting a senior animal."
Lori lives in the Los Angeles area with her husband, Darrell, their two rescue dogs, Gabby and Mr. French, and their two cats, Francis and Enzo.