Comedienne + Cute Canine Star = One Very Funny Movie about Dogs and Hollywood. Discover Boned!
Actress/producer and comedienne, Angela Landis, loves Humphrey, her feisty Maltese. But, what did Humphrey get her into when she signed on to star in the film, Boned? The actress, who's appeared in Grey's Anatomy, Anger Management, ER and Doubt, dishes on the dog who stole the show (even from the gorgeous Bai Ling) in this sexy camp meets caper movie.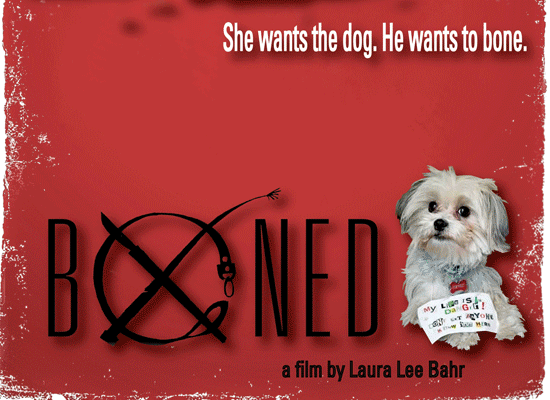 HUMPHREY the Maltese
Humphrey was born and potty trained by a lovely family in Long Beach, California where she was originally known as 'Butterfly'. Sadly, their evil landlord did not allow pets so Humphrey placed an ad on Craigslist in search of a new roommate. Being a small town girl with big dreams, she searched the Los Angeles area and came across actress-producer, Angela Landis. Angela was so confident Humphrey would be her new roommate that she immediately saved Humphrey's Craigslist photo as her screensaver and could barely wait the week while the family scrutinized potential homes for the Maltese.
Angela picked up Humphrey, who was just 6 months old, in a well-lit supermarket parking lot in Long Beach on a cold evening in February 2014. Upon arrival in her new home in Burbank, Humphrey spent her first evening chasing her reflection in the mirrored closet doors. She immediately felt a connection with Angela and they cuddled all night.
Since Humphrey was so charming and cute, Angela suggested she try her paws at the acting thing. Humphrey immediately landed a role in a "Blurred Lines" video spoof with funny lady Amanda Korpitz. Humphrey was such a scene-stealer Landis then introduced her to Laura Lee Bahr, the writer/director of BONED, a quirky comedy about dogs and Hollywood. Ms. Bahr knew Humphrey would be perfect for the role of Humphrey, the adorable Maltese who is dog-napped and then rescued and returned to it's rightful and loving owner. Humphrey was very excited about her acting debut and getting to work with Bai Ling, Josh Randall, Deanna Lund, Casey Kraemer and her roommate Ms. Landis/ Humphrey has since played numerous adorable puppies in several short films and an indie feature. She also just played a matchmaker in a Doritos Spec Commercial.
She's currently studying method acting by just being a dog, as well as watching Cesar Milan training videos so that she has some skills on her resume to start looking for a Hollywood Agent. She's hoping that the release of BONED helps her career take off. She looks forward to working with the dog stars like the golden retriever in 'Air Bud,' the Newfie in 'Must Love Dogs' and Max in 'The Secret Lives of Pets' (because she doesn't understand animation.)
In addition to acting, her hobbies include sneaking up on the dining room table when no one is in the house, greeting EVERYONE she passes while hiking in Northeast LA, and bringing out her favorite squeaky toy 'skunky' every night after lights out.