Olympic Magic - Part 2 - Tara Lipinski
Go behind the scenes of the Olympics, the National Dog Show and the lives of Olympic champions, culture/lifestyle commentators and stylish BFF's, Johnny Weir and Tara Lipinski, as they dish on it all. Here, my interview with Tara.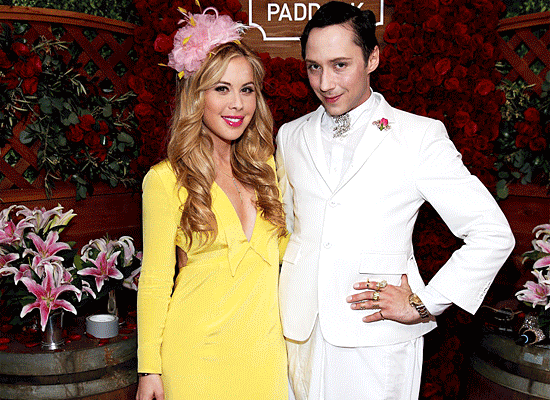 Tara Lipinski, the internationally acclaimed figure skater who won over the world's hearts when she earned the gold medal at the 1998 Nagano Olympics – earning her the distinction as the youngest individual Gold Medalist ever in Winter Games history – has applied the same grace, finesse and assiduous character as a role model to empower a whole generation of young girls to achieve any goal they set their minds to. Tara was also recognized as the youngest ever World Figure Skating Champion and United States Champion. In the now 15 years since her Olympic triumph, Lipinski takes the same championship-style approach to her new roles as a TV sports commentator for NBC, NBC Sports and Universal Sports, an actress, a philanthropist and more. In following her love for performance as a popular professional ice skater into these new high-profile jobs, it is clear Lipinski was born to be a performer both on the ice and on the screen.
Today, Lipinski regularly appears as a TV Analyst for the World Figure Skating Championships, the Grand Prix of Figure Skating Series and the U.S. Figure Skating National Championships, which will lead us into the run-up to the 2014 Winter Olympics in Sochi, Russia, where she will be a commentator and analyst for NBC Sports. During previous Winter Games in Vancouver, Tara worked with many of the world's top media outlets and partnered with sponsors, further burnishing her global stature as an iconic Olympian of accomplishment and inspiration.
"I realized the power of my brand early on, commented Lipinski. "Even as a kid I realized the need to give back to the community and to be a role model for young women who aspire to follow their dreams as I had done."
The strength of character, determination, expertise and Tara's infectious joie de vivre that have become her enduring brand can be seen in the golden moments of her winning Olympic performance, yet were instilled at an early age. It all began at the age of three in Sewell, New Jersey she started roller skating and went on at age nine to win the primary girls freestyle title at United States Roller Skating Championships.
"I went roller skating for fun with my friend," Tara recalls. "If you went for a lesson you got a free CareBear, and we thought that was a good idea. And I just really fell in love with it."
Then at six-years-old, "My parents took me to the ice rink to see what would happen. First time around I didn't really like it, I missed roller skating. Then, all of a sudden, within a half hour, I just transferred everything I learned onto the ice, and the rest is history," she says. At 13 years-old, Lipinski went on to become the first female skater to land a triple loop/triple loop jump combination – a signature element of her performances. On reaching the amateur pinnacle of her sport with her Olympic achievements, Tara turned professional and proved her public appeal has a strong audience draw on such events as Stars on Ice, Champions on Ice and Ice Wars. She was a co-headliner with Scott Hamilton and Kristi Yamaguchi on the Stars on Ice tour and starred in the Pro Team competition Ice Wars that aired on CBS prime time.
A deal with CBS Television resulted in her own primetime special, "Tara Lipinski: From This Moment On" and led to dozens of cameo TV appearances and acting roles on primetime series as "Sabrina, the Teenage Witch," "Malcolm in the Middle," "Veronica's Closet," "7th Heaven," and "The Young and the Restless," among others.
Tara also authored two best-selling books: Triumph on Ice and Totally Tara.
"The line from competing and skating and then performing as a professional and becoming an entertainer/actor was just a natural progression for me," Lipinski observes. "Acting has a very similar feeling to skating, and when I got roles based on my ability and not my name it was really satisfying."
"Of course my first love will always be skating. It always has been, and I realized that I really missed it," she says. Her now burgeoning career as a TV sports host, commentator and analyst allows Tara to still enjoy and contribute to the competitive skating world. "It feels like a natural progression and brought me back into the sport I am so passionate about. I also get to be involved and watch these skaters and feel the excitement without all of the pressure that comes with being a competitor. Plus it's so enjoyable and I feel so comfortable, like it's what I'm meant to do."
Lipinski currently divides her time between Los Angeles and New York, as well as the house she helped design on the South Carolina coast, when she has time to get away from her busy career.