Red Star to the Rescue in Tennessee
For the third time in the past 18 months, American Humane Association's Red Star Rescue team is on the ground in Tennessee caring for horses in need. Listen in as she chats with the Red Star team's Josh Cary and famed equine veterinarian Dr. Jennifer Dunlap about their deployment in the Volunteer State.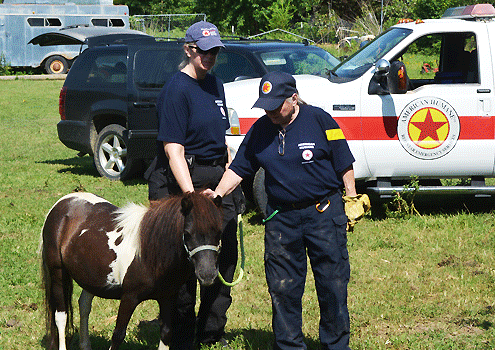 Josh Cary
Josh Cary is an operations specialist with American Humane Association's famed Red Star Rescue team, joining them in 2010. Over the past five years, he has deployed with the team around the country to many trying situations like the 2011 Memphis floods, Superstorm Sandy in 2012, the 2013 EF-5 tornado in Moore, Oklahoma, and many large-scale animal cruelty cases. The Red Star Rescue team has cared for animals in times of disaster since World War I and will celebrate its milestone 100th anniversary in 2016.
Dr. Jennifer Dunlap
Dr. Jennifer Dunlap has had a lifelong love for horses and has had horses for most of her life. She has competed in eventing, dressage and hunter/jumpers and has rehabilitated many ex-racehorses directly from the track. Her current interests include showing her homebreds in hand and promoting the Irish Draught Sport Horse. She is very committed to providing outstanding care for her clients and patients. She is actively involved in animal rescue and has worked on numerous animal cruelty cases and serves as an expert witness in court. Dr. Dunlap served as the head of the vet team for the ASPCA Flood Disaster Shelter in Memphis in 2011 and is a credentialed member of the Shelby and Fayette county DART (Disaster Animal Response Team.) She is also very privileged to be a member of the American Humane Association's Red Star Team. She regularly lectures on a variety of veterinary topics at the local and national level and hosts several client education seminars throughout the year.