Meet the Kare-9 Comfort Dogs
Robin records this week's show live from the fourth annual Lutheran Church Charities K-9/Kare-9 National Conference at Harper College in Palatine, Illinois, where she served as keynote speaker. Listen in as she interviews dog handlers with the Kare-9 Military Ministry, who bring their specially trained Comfort Dogs to those who need the power of animal-assisted therapy most. You won't want to miss the special interview with Marine Josh, who pays tribute to his Battle Buddy, MWD Tyson.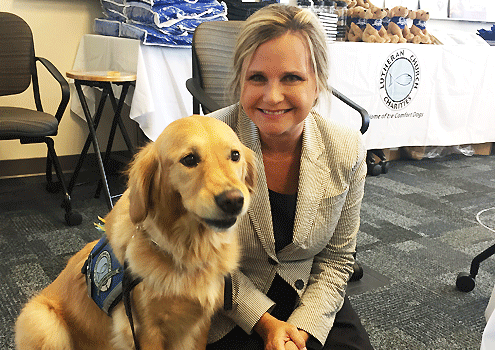 The LCC Kare-9 Military Ministry is a ministry by veterans for veterans. It strives to serve our military, veterans and their families. In order to do this to the best of their ability they place a dog – named after a K-9 that gave its life in the service of our country – with a veteran. The dogs begin training as puppies and are trained alongside their veteran. When entering the program the dogs are known as recruits. Upon completion of basic training, they are full-fledged Soldiers, Sailors, Airmen, or Marines. The Kare-9® Military Ministry dogs visit many places, including VFWs, VA hospitals, Traumatic Brain Injury (TBI) Care Centers, homes of veterans that are home bound, Expos, Vet Clinics, Yellow Ribbon Ceremonies and various other activities.