100 Years of Animal Rescue
This year, American Humane Association celebrates a century of rescuing animals from disasters like floods, tornadoes and hurricanes. On this week's episode, we chat with Louisa McCune, the Executive Director of the Kirkpatrick Foundation, who helped American Humane Association give a giant gift to America's animals: a new 50-foot animal rescue truck. Later, we chat with Randy Collins, the national director of American Humane Association's legendary animal rescue program, who shares some lifesaving tips to help your pets when disaster strikes.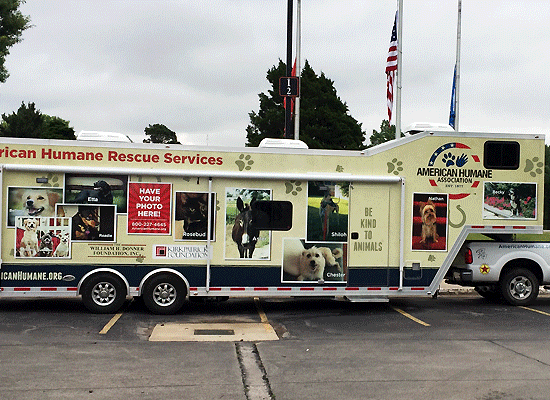 Louisa McCune
Louisa McCune is the executive director and ex-officio secretary of the board for Kirkpatrick Foundation. She is a board member of Philanthropy Southwest and serves as an advisory trustee to the Kirkpatrick Family Fund and Oklahoma Contemporary Arts Center. She is also editor of ArtDesk magazine, a member of the Oklahoma Roundtable for Animal Welfare, and a member of Rotary Club of Oklahoma City, Club 29.
McCune is a past member of the American Society of Magazine Editors and has served on the boards of City Arts Center, the Oklahoma Center for Poets and Writers, the Oklahoma Music Hall of Fame and Museum, and Wilson Arts, Inc. She is a former committee member for the Thatcher Hoffman Smith prize and judge for the National Magazine Awards.
From 1997 to 2011, she served as editor in chief of Oklahoma Today. Before returning to Oklahoma, she was a contributing editor for The American Benefactor and also worked at Worth, George, Harper's Magazine, Mirabella, and New York. In 1996, she was assistant editor on Fools for Scandal by Gene Lyons, published by Harper's. A former contributing editor to Green: The Magazine for Personal Finance, her articles have appeared in National Geographic Traveler, Arthur Frommer's Budget Travel, Reader's Digest, Worth, OKC Business, and World Literature Today. She is a former columnist for the Journal Record newspaper.
Under her guidance, Oklahoma Today won more than 250 national and state awards, including three SPJ Best Magazine awards and two Magazine of the Year awards from the International Regional Magazine Association. In 2003, McCune received the Bill Thurman Memorial Media in the Arts Award at the Oklahoma Governor's Arts Award. In 1999, she was named one of "Thirty Under 30" by the Magazine Publishers of America and Folio; in 2002, one of "Forty Under 40" Oklahoma City leaders by OKC Business; and in 2007, an Achiever Under 40 by The Journal Record.
An Enid, Oklahoma, native, McCune graduated with a bachelor's degree from San Francisco State University in 1992. After college, she worked for Evergreen Helicopters in West Africa on a project to eradicate river blindness and then at the Enid News & Eagle as a general assignment feature writer. She received her pilot's license in 1993. In 2005, McCune founded the Sallie McFarland Rucks Reader Series at Wilson Elementary in Oklahoma City. Louisa has three sons, McCune, Rucks, and Edward.
Randy  Collins is American Humane Association's National Director of Red Star® Rescue & Emergency Services for Animals. For 100 years, Red Star Rescue has led hundreds of domestic and international
emergency aid efforts following such disasters as the Great Ohio Flood of 1937, the attack on Pearl Harbor, Hurricane Katrina, 9/11, the Haitian and Japanese earthquakes, the Joplin tornado, and Superstorm Sandy. Red Star Rescue also responds to other significant events challenging local communities' resources, including animal hoarding, cruelty cases, and puppy mill seizures.

Collins has a long and remarkable history in emergency response including work with the Department of Homeland Security, FEMA, incident management, and law enforcement and the armed forces. He has served as an emergency management specialist for Southern California Edison, is the president of the All Hazards Incident Management Teams Association, has had assignments with the Department of Homeland Security and FEMA, and is a former K-9 law enforcement officer. Before moving to California, Collins was an executive with the Indiana Department of Homeland Security where he established the Indiana Incident Management Program and the District Response Task Force program. He also had a collateral duty where he commanded the state's Incident Management Assistance Team.