The Best Bets for Pets Holiday Show 2017
What's the purr-fect gift for your cat?  What present will make your dog go Bow-WOW?  Find out as Michelle Fern runs down her top 8 favorite pet products of 2017.  Tune in for pawsome gift ideas for this holiday season!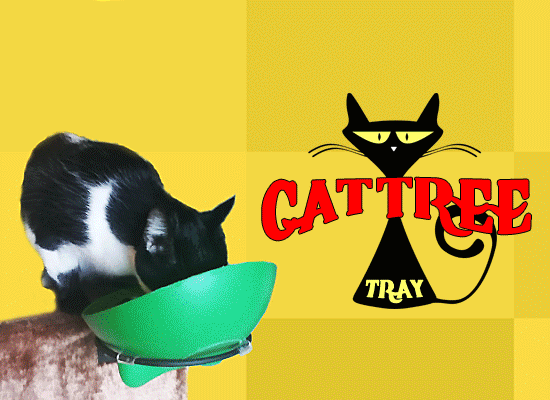 Cat Tree Tray
Our Pet Life Radio studio cat crew is always hungry! They love their regular meals but they also like to nibble a little bit during the day. Unfortunately the Canine Crew also likes to eat and they were grabbing up the goodies before the cats could get there! So we had to come up with a solution to keep the chow hounds at bay! The Cat Tree Tray! Our cat crew now experiences feline fine dining in culinary comfort! It's the purrrfect solution!
Jones Natural Chews
Delicious treats for your special canine fur babes, all made in the USA!
The newest treats are the Jones Natural Treats stuffed snacks
The new Jones Natural Chews stuffed snacks include an assortment of bones and body part chews, which will be available this fall. The bones are four-inch, natural, white bare bones filled with a variety of meats, cheese and/or rice. Stuffed hooves and tracheas are also part of the new lineup. Stuffed chews allow dogs to dig for the treats buried inside and satisfy the chewing urge for hours.
Precious Metal Prints
While a photograph might bend or lose clarity as time takes its toll, a Precious Metal Print can maintain its unique impression for centuries. Crafted individually in Knoxville Tennessee and hand-finished in silver or gold, a Precious Metal Print requires only a single impression to immortalize a friend, pet or loved one. These heirloom quality treasures make great gifts that can be worn in many forms.
Clotit
ClotIt is a non-staining, blood clotting powder made up of all-natural minerals designed to rapidly stop bleeding in minor to severe external wounds. ClotIt is a patent-pending, multi-action compound of all-natural minerals. Upon contact with blood, ClotIt facilitates and accelerates the body's natural coagulation cascade, while simultaneously slowing blood flow, by constricting local vessels and capillaries. The Clotit first aid kit includes Clotit as well as several other items beneficial for emergency treatment.
Pet Safe
As the largest manufacturer of electronic pet training products in the U.S., we're devoted to the most innovative research and advanced designs. Our products help you and your pet have the best moments together, whether you need a little help with training or you just want to pamper your pet. We have a large selection of Pet Tech training devices that are safe and effective.
Bissell
Two new vacuums just for the holidays!
Pet Stain Eraser™ Cordless Portable Carpet Cleaner, will make stains a thing of the past.
Just because you have a four-legged family member doesn't mean you have to sacrifice a stylish, spot-free home. Whether it's carpet, upholstery or furniture, the Pet Stain Eraser™ is just the tool for the job with its simple, three-step process: Spray, Scrub, Suction. Its cordless design means that no matter where the stain is, it's gone in no time.
The Pet Hair Eraser Lift-Off Vacuum
This vacuum is engineered specifically for homes with pets, and combines the power of an upright vacuum with the cleaning convenience of a lightweight, portable vacuum. Safe for use on carpet, hard floors and upholstery, the Pet Hair Eraser Lift-Off makes cleaning up pet hair, dirt, dander and odors easier.
Calmz
It's a two-part system that consists of a comfort fit vest that cradles the Calmz device over specific acupressure points on your dogs' spine. When the device is activated, the dog will hear and feel a therapeutic medley of classical music, tones and vibrations called NeuroSync Technology® which soothes their anxiety
Yogibo
Ultimate dog bed that is a super comfortable because it conforms to the shape of your dog or cat's body.