Now Playing: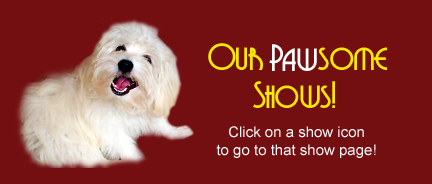 Chommmp!™ Animal Television Network offers high quality original pet and animal videos & TV programming. >
WATCH NOW!

Get your paws on some really cool Pet Life Radio stuff -- T-shirts, pet bowls, mugs, water bottles, iPhone & iPod cases,calendars & more! > SHOP NOW!

Find out what your favorite celebs and their celebrity pets are up to!
Get the latest celebrity pet news, sightings, pictures and interviews! >
Pet Life Radio
The #1 Pet Podcast Radio Network
Dogs, Cats & Pets
Welcome to PetLifeRadio.com! Pet Life Radio is the largest and #1 pet radio network on the planet, featuring over 60 weekly pet-related talk radio shows hosted by the most well-known pet experts, authors and radio and TV personalities in the world of animals and pets! With over six million monthly on-demand listeners Pet Life Radio has hosted celebrity guests like Jennifer Aniston, Betty White, Ryan O'Neal, Paris Hilton and more. Pet Life Radio just recently won a prestigious 2012 Genesis Award, and is the Official Radio Network of the American Humane Association. Pet Life Radio has millions of pet loving listeners worldwide!

Pet Life Radio is available on-demand from the PetLifeRadio.com website, iTunes and over 30 podcast distributors. On the cutting edge of technology, our live 24/7 live radio stream is broadcast globally to over 100 million subscribers on the PetLifeRadio.com home page as well as to smart phones, mobile devices, Xbox and cars through iHeartRadio, TuneIn Radio, Stitcher Radio, iTunes Radio, Aha Radio, Nokia Radio, Streema, iStream Radio and ooTunes Radio.

Pet Life Radio, the largest pet podcast news talk online radio network features dogs, cats & pet podcasts, pet news, pet talk shows, podcasts about pets, podcast radio shows about pets, radio station about pets and animals & animal podcasts as well as information about animal and dog rescue, animal shelters and pets all here on our pet online radio network! What do you want to know about animals and pets? Find out here!