Kanine Knitter, Fashion Goes to the Dogs

She has spent over 40 years breeding and showing Samoyed dogs., has won countless show and obedience titles... has had huge success as a fashion designer of knits worn proudly by animal lovers around the world... has created over 100 knitting patterns, ten books on knitting for dog lovers, and if that's not enough... Peggy Gaffney is a successful fiction writer.  In fact, her wonderful Book Fashion Goes to the Dogs, A Kate Killoy Mystery  was so well received, she has a sequel coming this Fall!  Find out more... on this episode of My Dog Digs Dirt.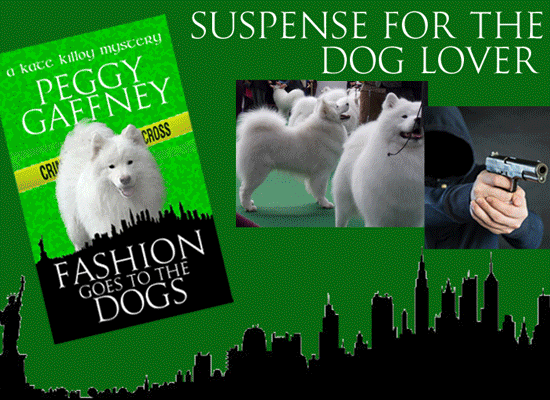 The overwhelming influence in author Peggy Gaffney's life is the beautiful white, ancient arctic breed of dog, the Samoyed. This breed has been a hobby with her for forty-eight years, as a breeder, trainer and exhibitor of her champion Samoyeds of Westernesse. Her Samoyeds have won many awards including championships, obedience titles, as well as Best in Show awards at the prestigious International competition in Mexico City and the Samoyed Club of America National Specialty. Peggy presently enjoys showing her young Sammy male, Dillon.
Dogs have also been an influence in Peggy's working life for more than twenty years. Initially as a knitting designer of Kanine Knits, she created a collection of more than 100 picture knit patterns of pure breed dogs which she's sold online around the world. Following this, as the author of seven knitting books with her Crafty Dog Knits series, as well as books for lovers of cats and llamas and alpacas, and most recently a book of children's designs entitled Knit a Kitten, Purl a Puppy.
In 2015, Peggy changed writing genres and published her first suspense novel for dog lovers; Fashion Goes to the Dogs a Kate Killoy Mystery. This has been described as "Die Hard meets Best In Show. It too has developed a worldwide following and is a five-star book on Amazon. The second Kate Killoy Mystery is scheduled to be available in fall of 2016 and will continue to bring suspense the world of dogs.
Author of both fiction and nonfiction as well as more than 100 knitting patterns for those who love purebred dogs:
Nonfiction:
The Crafty Samoyed Knits
The Crafty Labrador Retriever Knits
The Crafty Golden Retriever Knits
The Crafty Bernese Mt. Dog Knits
The Crafty Newfoundland Knits
The Crafty Welsh Corgi Knits
The Crafty Poodle Knits
The Crafty Cat Knits
The Crafty Llama & Alpaca Knits
Knit a Kitten Purl a Puppy
Fiction:
Fashion Goes to the Dogs: A Kate Killoy Mystery (book one in the series)
Book two in the series is due out in the Fall.