PAWS... Performing Animal Welfare Society

When you think of California's Gold Country, you probably think of it as a spot with huge homes for the rich and famous. Right? Well, it's also home to a wonderful animal sanctuary, with Asian and African elephants..  African lions, panthers, tigers, bears and other exotic animals~ all rescues from circuses, zoos and the exotic pet trade.
On this Episode of  My Dog Digs Dirt we meet Ed Stewart , one of the founders of PAWS.... PERFORMING ANIMAL WELFARE SOCIETY...  and find out about his incredible sanctuary and about his mission..  to protect performing and abused animals... to preserve wild species and their habitat, and to promote education about captive wildlife concerns.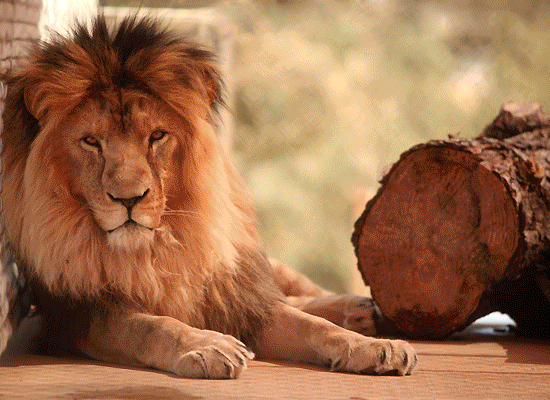 Ed Stewart currently directs operations for PAWS' three captive wildlife sanctuaries in Northern California, and serves as PAWS' animal care manager — training staff and keepers in the proper care of captive wildlife.
After graduating from the University of Tennessee's College of Communications, Ed Stewart worked in marketing and advertising and embarked on extensive international travel. In 1976, while managing part of the operations at the National Auto Show in Cleveland, Ohio, he met former Hollywood animal trainer, Pat Derby, the national representative for Lincoln Mercury, and trainer of the live cougars and bobcats used in the company's car commercials.  At the end of that show, Ed left Cleveland, and joined Pat as a representative for Lincoln Mercury at national auto shows across the country. He would later became promotions coordinator for the national book tour of Pat's award-winning book, The Lady and Her Tiger.
In 1978, after Pat's retirement from Hollywood, Ed and Pat, along with all of their animals — an elephant named Neena, Sweet William, a black bear, Seymour the grizzly, Harriet the baboon, African lion JC, leopards Lucifer and Lucretia, and of course, Christopher, the Lincoln Mercury cougar — moved to Mendocino County and opened and operated the Howling Wolf Lodge and Wild Animal Sanctuary in Leggett, California.
In the two years since meeting Pat, Ed had become immersed in captive wildlife care and management and quickly developed his skills in designing and constructing large-animal enclosures. He also became a tireless advocate for animal welfare at the California State Legislature, working to ensure better care for exotic animals in entertainment. Ed's advocacy continues to present day, working on issues at both state and federal levels.
In 1980, as part of a full-scale investigation by the United States Department of Agriculture (USDA), Ed Stewart and Pat Derby taped a four-part television disclosure from their property in Leggett, CA, which led to the revocation of the license of the largest supplier of animals to films and television.
In 1984, Pat and Ed founded the Performing Animal Welfare Society (PAWS). Together with then Assemblyman Sam Farr,  they introduced legislation to set higher standards for the care and handling of captive wildlife. Their first bill, AB 1620, was signed into law in 1985. Among other things, that bill provided for a committee to advise the Director of the Department of Fish and Wildlife. Pat Derby served on the committee for 28 years. Ed Stewart served as her alternate.
In 1985, Ed would design, and oversee the construction of the first PAWS sanctuary for captive wildlife in Galt, California. In the following years he would also design and oversee construction of PAWS' second sanctuary, the 100-acre Amanda Blake Memorial Wildlife Refuge in Herald, California, and finally, ARK 2000, PAWS' 2,300-acre wildlife sanctuary in San Andreas, CA. Ed's innovative and enriching wildlife habitat designs at ARK 2000 have taken him all over the world as a consultant for other wildlife facilities. Concurrently, his expertise in wildlife management has helped with rescues and transportation issues. His work as an international consultant, and founder of a Rotary International program to mitigate elephant and human conflicts, has led to developing programs in India and Thailand.
Today, PAWS three sanctuaries are home to more than 70 animals including eight African and Asian elephants, 21 tigers, as well as African lions, bears, monkeys, bobcat, Scimitar-horned oryx, leopard, lynx, serval, muntjac, emu, and coyote. During PAWS' 31-year history, residents have also included cougars, wallaby, wallaroo, wolves, European brown bears, grizzly bears, cattle, burros, sheep, eland, fallow deer, rhea and ostrich.
Along with Pat Derby, Ed Stewart and PAWS have been featured on CNN, 20/20, Animal Planet, The Crusaders, Dateline, Animal Planet, The Leeza Show, The Montel Williams Show, The Discovery Channel, PBS, HBO, and other local and national media promoting PAWS' campaigns to protect captive wildlife.
Ed also participates in local and regional projects, and serves on a number of committees and boards and spearheads several philanthropic causes for under-served children and seniors – the "Senior Olympics" and the "Galt Running of the Berries" – only a few examples of his involvement in broad-based community projects. He has been a keynote speaker and guest lecturer at community events, colleges, universities, zoos, Rotary events, as well as animal-related conferences in the United States, Canada and Great Britain.
Ed is a member of the Detroit Zoological Society's Center for Zoo Animal Welfare Advisory Committee and also sits on the California Department of Fish and Wildlife Director's Advisory Committee on the Humane Care and Treatment of Wild Animals.