Hats Off! Plus Eco-friendly Pet Products

Pet Fashion and Accessories are Exploding!   These days you can find just about anything for your beloved pet... including hand made hats!  On this episode of My Dog Digs Dirt I'll introduce you to Roni Goldberg, designer and founder of Roni Goldberg Designs, a self taught milliner for animals whose Incredibly inventive hats are now sold around the world.  And to Ann Greenberg, founder and president of A Pet With Paws, who makes the most divine fashion-forward, yet eco-friendly products for pets and pet lovers.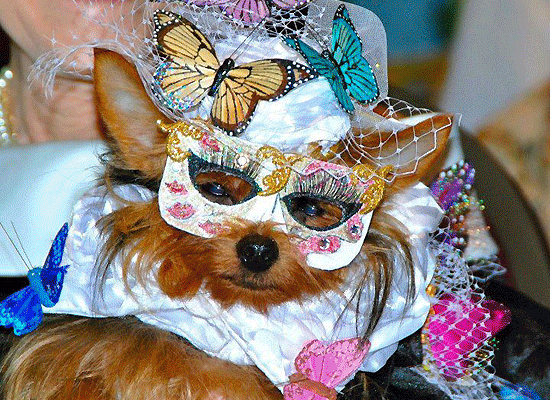 Roni Goldberg
I started making hats for my 2 beautiful girls, Butterfly Kisses , short name " Kisses and Sugar Pie Honey Bunch , short name " Honey"!! They are my 2 sweet Yorkies!! yes, I make doggie hats and I Love it!! Now, I sell them!!
Ann Greenberg
Who would have imaged plastic bottles could be transformed into high end, fashionable pet carriers and accessories? Ann Greenberg, founder of The Underground Chic, known for her designer style, and eco-conscious handbags has expanded this concept and created A Pet with Paws, a line of sophisticated, eco-friendly pet carriers and accessories.

Imparting a sense of humor, at first glance you think the pet carrier is made of leather, however, upon closer examination, you realize your eye has been tricked! What you are seeing is a photo printed image on fabric made from recycled plastic bottles. The pet accessories are also amusing, offering trompe l'oeil printed waste bag dispensers and doggy backpacks that are quirky and stylish, redefining the waste bag dispenser category.

A Pet with Paws evolved when Ann discovered that the pet industry lacked eco-conscious companies supplying sustainable, yet fashionable pet carriers and accessories. She created the company's niche by providing whimsical, cruelty-free, functional pet products that have panache, with the added bonus of being vegan and contributing towards preserving the environment. Great for traveling, these chic pet carriers are airline approved, elevating the travel experience with your furry friend to a whole new level!

A Pet with Paws takes their commitment to being an eco-conscious company seriously by partnering with Trees for the Future, for every pet carrier or accessory that is purchased a tree is planted.