Dion Leonard: Finding Gobi,
and Finding Himself
Dustin talks to ultra-marathoner, author, and dog lover Dion Leonard about the fateful day in the desert when he first met Gobi, how they bonded during the race, and the moment he finally fell for her. They also talk about the terrible days when Gobi was missing in Urumqi, and how their joyful reunion and unshakeable connection became a symbol of hope and inspiration for people all over the world. Their book, "Finding Gobi", comes out in the U.S. in June 2017.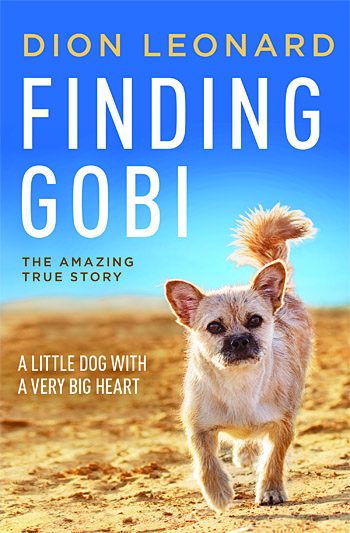 Dion Leonard is an Australian who now lives in Edinburgh, Scotland. Dion has competed in some of the world's toughest ultra-marathons across the planet's most inhospitable landscapes. When Dion signed up to compete in a 155-mile race across the Gobi Desert in China, he never expected to adopt a stray dog in the process. But when a scrappy little pup appeared out of nowhere and kept pace with him for nearly 80 miles over the Tian Shan Mountains, across desert dunes and through yurt villages, the pair became fast friends. Dion named the pooch Gobi in honor of the desert that they tackled together.
But before Dion and Gobi could return home to Scotland together, Gobi went missing in Urumqi. Leonard launched a desperate search for her that went viral, and with the help of millions around the world, he and Gobi were finally reunited.
Now, Dion tells the inspiring full story in Finding Gobi. Not just a dog story, it's the perfect combination of adventure, mystery, love, and discovery of self that will make us all appreciate the Gobi's in our own lives and open our hearts to new possibilities.