Sculpting Out A Great Career!
On this final episode of Season 5 of the Positively Podcast, Victoria and Holly discuss a disturbing video of a Rottweiler growling at a young child who is being videotaped hugging and petting the dog. They talk about the importance of teaching parents and children about dog safety and dog bite prevention, and how you can prevent your child from being bitten by a dog.
They also chat with award-winning working dog sculptor Austin Weishel, who is best known for sculpting the National Fire Dog Monument in Washington, DC. They talk about his work, how he got started as a sculptor, and what we can expect to see from him in the future.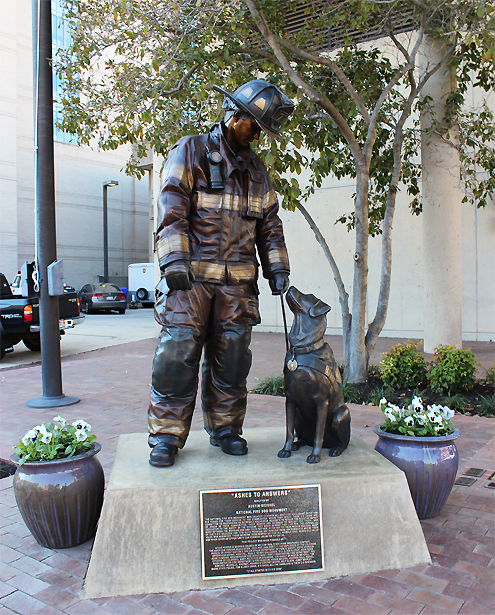 I discovered sculpting after visiting my grandparents in Arizona, where they took me on a tour of a local bronze foundry. There, I was introduced to the process of casting clay sculptures into bronze. The owner of Bronzesmith, Ed Reilly, challenged me to make something out of a ball of clay. Reilly told me if it was any good, he would cast it in bronze. Intrigued and inspired, I took the clay home to Colorado and I began my first sculpture. After several months, I returned to Arizona with a finished clay sculpture of a fireman. Impressed with the sculpture, Reilly cast it in bronze and offered me a summer internship. After interning, I chose sculpting as a career.
In 2007, following the internship and returning to high school, I shared my first sculpture with the Advanced Placement (AP) Art teacher, Lia Devine. She too was impressed with my artistic abilities. Within my first school year of sculpting, I created 20 sculptures comprised of twelve firefighters and other works. The sculptures were constructed of snow, stone, foam, bronze and clay. Judged against other advanced art students across the country, my artwork received a perfect score of five out of five. This was the incentive for me to pursue a career as a sculptor.
I decided to sculpt first responders due to my interest in the police and fire service. In high school, I worked as a student firefighter for the Loveland Fire Department for two and a half years; I subsequently joined Loveland's student police program. At 18 years of age, I successfully completed one of Colorado's Fire Academies to become a firefighter. Soon after, I was certified in First Aid, CPR and Emergency Medical Technician (EMT).
My transformation from small pieces to life-size works garnered my first commission with the Windsor-Severance Fire Protection District. I sculpted a life-size fireman, named "Follow Your Heart" at 19 years old.
Today, I continue to combine my two passions for art and firefighting. My latest project, the National Fire Dog Monument named "Ashes to Answers", is a life-size fireman with an arson K-9. The national monument is located at Fire Station #2 in downtown Washington D.C. "Ashes to Answers" was commissioned by Jerry Means, an arson investigative agent with the Colorado Bureau of Investigations (CBI).