Treats and Sweets for Therapy Dogs! It's National Therapy Animal Day for Pet Partners!

A Million Therapy Visits a year! Pet Partners, founded in 1977, is the original leader of the pack for therapy dogs, and is the nation's largest and most prestigious therapy animal organization! Along with 'Gotham's' 'Bruce Wayne,' David Mazouz, and America's Veterinarian, Dr. Marty Becker, we all can don our chef hats and bake to support these therapy animal visits. Super Smiley is a Pet Partners Therapy Dog and he's up for this adventure! Have a baking party, pack walk, biscuits and brewskis… the sky is the limit, and the therapy visit rewards are limitless. Click to listen and see how you can participate!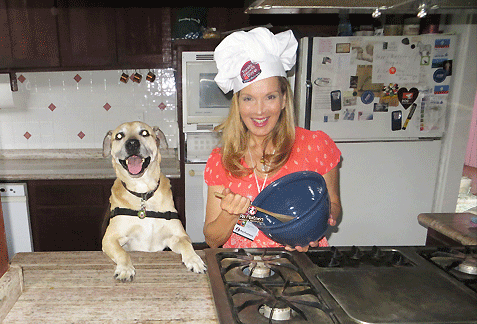 Dr. Aubrey Fine
Psychologist Dr. Aubrey Fine has been in the field of Animal Assisted Therapy (AAT) for over twenty-five years. His work and insight into the bond has placed him at the cutting edge in the field. His greatest asset is his capability to translate his insights in a warm and receptive manner.

Dr. Fine has also been an active faculty member at California State Polytechnic University for 26 years. His leadership among faculty and teaching excellence earned him the prestigious Wang Award in 2001, given to a distinguished professor within the California State University system, in this instance for exceptional commitment, dedication, and exemplary contributions within the areas of education and applied sciences.

He is the editor of the most widely accepted book on the subject, The Handbook on Animal Assisted Therapy which is now in its second edition (Elsevier/Academic Press, 2006). He also has a featured monthly column in Dog Fancy Magazine (Starting July, 2008) on the human animal bond entitled the Loving Bond. Dr. Fine has published other academic books, numerous articles, and video documentaries on related subjects such as parent/child relationships, learning/attention disorders, and sports psychology.

His newest book Afternoons with Puppy (released by Purdue University in December, 2007) is a heartwarming account about the evolving relationships and outcomes among a therapist, his therapy animals and his patients over the course of over two decades. This book documents some of the magnificent outcomes and discoveries that I have witnessed and made over the past few decades working with these animals, showing how the reader can apply these observations and discoveries to their lives. Afternoons with Puppy pays tribute to his first "therapy dog" Puppy and all the other animals he has worked with that eventually altered his approach to psychotherapy.

Over the past 25 years, Fine has researched and studied the value of AAT with children as well as the elderly. In addition, he has strongly integrated the foundations of AAT into his clinical practice, which primarily focuses on the treatment of children with attention, behavioral, adjustment and developmental disorders. Over this period, he has applied AAT with a variety of children with diverse forms of etiology and has witnessed many moving outcomes as a result of incorporating animals as therapeutic agents.



Traci Pryor
Senior National Director, Strategic Partnerships at Pet Partners
Non-profit professional with expertise in areas including management, board development, annual giving, donor cultivation, special events, volunteer recruitment and collaborative partnerships.
Specialties:Management, annual giving, special events, donor cultivation, volunteer recruitment, grant writing, community development model.