Mega Stars! All Shine Their Lights at the Humane Society of the United States Gala!
The Stars are out, and we are there live for The Humane Society of the United States Gala! Classic Titanic film star, Frances Fisher; television Icon, Ed Asner; Jurassic World's Courtney James Clark; the handsome young 'Bruce Wayne' from The hit TV series Gotham, David Mazouz; Academy Award Nominee, James Cromwell; Pretty Little Liars' stars Torrey DeVitto and Ian Harding, True Blood's Lindsay Pulsipher, Grammy Winner and Music Industry Hall of Fame inductee, Diane Warren; American Idol's Pia Toscano, the legendary Priscilla Presley, The Originals' Sebastian Roché, and Emma Fuhrmann star of Adam Sandler and Drew Barrymore's crazy comedy Blended… and more were there like Mega Music Talent Moby and The Big Bang Theory's Kaley Cuoco who you'll meet in the 2nd part of this mega star packed series - all to look back on what HSUS has accomplished this year as the largest animal welfare organization in the U.S. effecting change from puppy mills to providing health care for inner city pets, from stopping dog fighting to helping animals caught in factory farms… the list goes on and on and the stars are here to talk about it all… on this Super Smiley Adventure.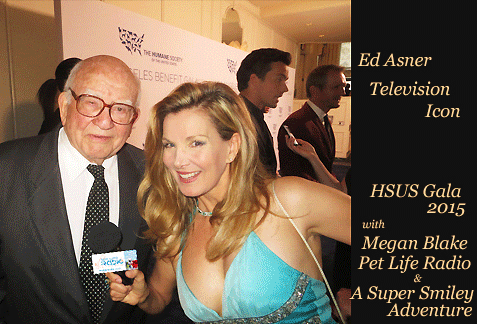 As the nation's largest and most effective animal protection organization, The Humane Society of the United States has been a leading voice for animals for more than 50 years. They believe in a truly humane society, and work to reduce suffering and create meaningful social change for animals in every way possible -- from providing direct care and response in the field when animals are in crisis, to working with corporate leaders and lawmakers to adopt policies preventing animals from ending up in distress in the first place.