MAX, the War Dog Film, - Exclusive Warner Brothers' Behind the Screen Event
MAX's film Director, Boaz Yakin speaks about War Dogs having feelings, spirits and emotions" as they share intimates connection with their human military partners. Meet MAX's co-writer and U.S. War Veteran, Sheldon Lettich, who drew from his own personal experiences to bring this powerful message to life. Meet U.S. Marine Matthew Foster and his war dog hero Sgt. Mick and Staff Sergeant James Harrington with his war dog K9 Ryky who saved him on and off the battlefield. Kristen Regan Maurer, President of Mission K9 Rescue, offers her stories of reuniting warriors with their dogs who served. All joining us via our guest host, Kim Swartz, with a powerful Super Smiley Adventure.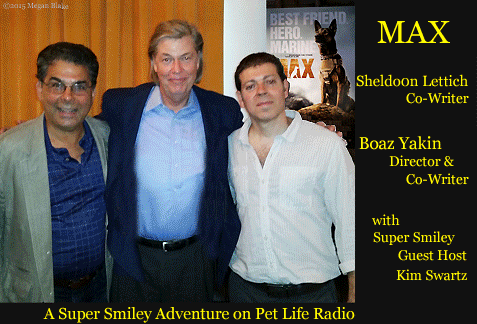 BOAZ YAKIN (Director/Writer/Executive Producer) made his first directorial effort with "Fresh," which was based on his own screenplay. It attracted talent such as Samuel L. Jackson and Giancarlo Esposito to star in it, and the film earned the Filmmakers Trophy at the 1994 Sundance Film Festival, as well as prizes in the Tokyo film festival and other festivals throughout Europe.
Yakin's experiences with the Chassidic community informed his next directorial effort, "A Price Above Rubies." Yakin next took on "Remember the Titans," starring Denzel Washington, for producer Jerry Bruckheimer. The film was a box office success, and a perennial audience favorite. He then made a foray into comedy with "Uptown Girls," starring Brittany Murphy and Dakota Fanning. Yakin wrote, produced and directed "Death in Love," a controversial film that had its premiere at the 2009 Sundance Film Festival.
He has also written several graphic novels, including The Remarkable Worlds of Phineas B. Fuddle, illustrated by his brother Erez Yakin and released by Paradox Press. He wrote two other graphic novels published by 1st Second Books: Marathon, illustrated by Joe Infurnari, came out in June, 2012, and Jerusalem, illustrated by Nick Bertozzi, was released in April 2013.
Yakin most recently wrote and directed "Safe," an action film starring Jason Statham, released in April of 2012, and wrote and served as an executive producer on Louis Letterrier's 2013 box office success "Now You See Me."
SHELDON LETTICH (Writer) is a screenwriter, movie director, producer, and playwright who has written and/or directed a number of classic action films. Prior to his motion picture career he spent nearly four years with the U.S. Marine Corps, serving as a radio operator in Vietnam with 3rd Battalion, 1st Marines, and later with the elite 1st Force Reconnaissance Company at Camp Pendleton, California.
Based partly upon his experiences in Vietnam, he co-authored the renowned VietnamVeterans play "Tracers," which was first performed at the Odyssey Theater in Los Angeles. The play then traveled to Joseph Papp's Public Theater in New York City, the Steppenwolf Theater in Chicago, directed by Gary Sinise, as well as numerous venues worldwide. It received both Drama Desk Awards and L.A. Drama Critics Awards, and is still being performed throughout the One of his Vietnam-based screenplays caught the eye of Sylvester Stallone, which resulted in an overall deal with Stallone's White Eagle Productions, and led to him co-writing "Rambo III" with Stallone. At the same time, Boaz Yakin was also employed by White Eagle and Stallone, and that's when Lettich and Yakin met. They have been close friends ever since.
Lettich wrote the screenplay for the classic martial arts film "Bloodsport," which launched the career of Jean-Claude Van Damme. The new action star returned the favor by helping to launch Lettich's directing career with the film "Lionheart," followed by "Double Impact," both of which starred Van Damme. Lettich's next discovery was Mark Dacascos, who debuted in "Only the Strong," a film that introduced the Brazilian martial art of Capoeira to international audiences.
Lettich was also a writer/producer on the historical French Foreign Legion film "Legionnaire," which starred Van Damme and was shot on location in Morocco. He has directed or produced several films in other foreign countries, including "The Last Patrol" in Israel, "The Order" in Bulgaria, "The Hard Corps" in Canada and Romania, "Perfect Target" in Mexico and, most recently, "Black Rose" in Russia.