Doggie Cotillion with Canine Debutantes Raises Money and Awareness for Dog Rescue!
The most elaborate, elegant, 'coutured' dog event known to man… raises money and awareness for dog rescue! Laura Souza, the creator of G Girl Productions invites us into her world, right into her Doggie Cotillion where we meet the chefs, the resort hosts, the 'Miss Cotillion' winner and best of all: the North Florida Yorkie Rescue. Gourmet pet food, pet travel, canine couture, a formal event to celebrate our lives with dogs, and rescue! Now that's A Super Smiley Adventure!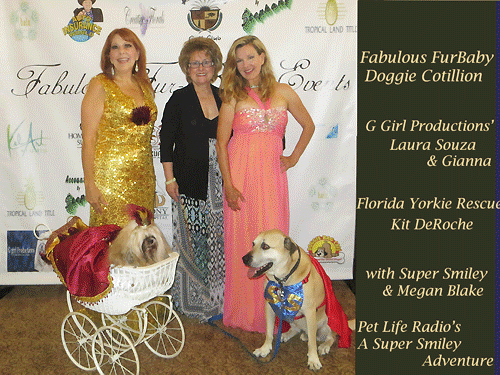 G girl Productions is the premier event coordinator for South Florida furbaby events and furbaby fashion shows. Putting on a successful fashion show requires excellent focus and attention. An experienced production company anticipates every detail to bring you a flawless event. At G girl Productions, every event is handled individually with a fresh and creative approach to all aspects of production from concept to completion. We are always listening to and building first-class relationships with our customers so we may provide excellent standards of service and client satisfaction.