It's Positively Victoria Stilwell on Everything Dog!
She's the Star of Animal Planet's 'It's Me or the Dog,' a World Renowned Dog Trainer, and adoption advocate! Victoria Stilwell is here with Dog Bite Prevention tips, Training Advice, Breed Specific Insights, new Programs with State Farm… It's like a mini Victoria Stilwell seminar! Now this is a SUPER Super Smiley Adventure!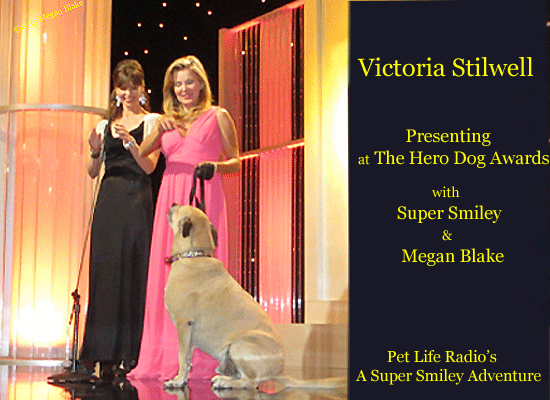 Victoria Stilwell is one of the world's most recognized and respected dog trainers. As the host of the hit TV show It's Me or the Dog (currently airing in more than 20 countries), Victoria has been able to share her insight and passion for positive, reward-based dog training with an ever-broadening audience.
Born and raised in Wimbledon, England, Victoria has been working as a dog trainer in London and New York for over 15 years. In the early 1990s, Victoria created her own successful dog-walking company and immediately recognized the need for qualified professionals to help her clients with the training process. While pursuing a successful acting career (working in London's West End as well as in numerous films, TV series, commercials and voiceovers), she expanded her focus into dog training and behavior counseling. She was soon working with some of Britain's most respected positive-reinforcement dog trainers and behaviorists.
In 1999, Victoria moved to Manhattan, where she co-founded Dog Trainers of New York. Through the company, Victoria primarily worked with families who needed help with dog training and behavior modification. In addition, she taught children techniques for safe and effective dog handling. Her unique background, personal sensitivity and innate training skills quickly made her one of New York City's most sought-after dog trainers. With a particular fondness for rescue animals in need of behavior rehabilitation, Victoria devoted much of her time and energy to a number of the many fine animal-rescue organizations in New York, serving as a behavior adviser and giving regular seminars on the subject of dog rescue, training and rehabilitation.