Animated Animals
Get to know the Tails of the City host, Victoria Shaffer. Listen to her interview with Modern Family's Ty Burrell on his new role in the animated movie Mr. Peabody and Sherman and his life growing up with dogs. "Laugh out loud" as Gilbert Gottfried explains how he prepares to play the roles of an array of furry creatures.
Also: listen to this episode to find out how you can get your paws on a set of Mr. Peabody and Sherman bow tie and glasses or a Mr. Peabody and Sherman IQ Kit for your dog!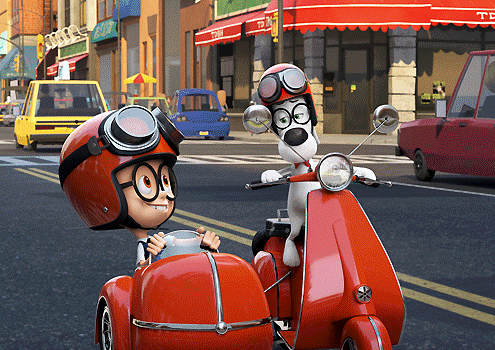 Ty Burrell
Ty Burrell was born on August 22nd 1967 in Oregon, where his family owned a business. He earned a BA from Southern Oregon University and attended The University of Oregon while working as a bartender. He was inducted into the Sigma Chi Fraternity and finished his education at Penn State where he got an MFA.

In his early career, Burrell appeared in the films "Black Hawk Down" and "Dawn of the Dead" He also appeared in a Broadway production of "Macbeth"

After a few appearances on "Law and Order" Burrell starred in the comedy sitcoms "Out of Practice" and "Back To You", costarring Patricia Heaton and Kelsey Grammer. He also made film appearances in "The Incredible Hulk" and "National Treasure: Book of Secrets"

In 2009, Christopher Lloyd gave him the part of Phil Dunphy on the smash hit television series "Modern Family" which has gotten rave reviews, emmys, and the #1 spot on television several times. Burrell himself has gotten 4 Emmy nominations and one win in 2011 because of his popular role.

Burrell will appear in the upcoming "Mr. Peabody and Sherman", "Finding Dory" and has also been announced to star in the upcoming sequel to Jason Segal's Muppet film.
Gilbert Gottfried
At the young age of 15, Gilbert Gottfried began doing stand-up at open mike nights in New York City and after a few short years, became known around town as "The Comedian's Comedian." After spending several years mastering the art of stand-up comedy, producers of the legendary NBC late night comedy show "Saturday Night Live" became aware of Gottfried and, in 1980, hired him as a cast member. It wasn't until a few years later when his true notoriety would begin when MTV hired him for a series of improvised and hilarious promos for the newly formed channel. This led to several television appearances on "The Cosby Show" and "Late Night with David Letterman."
Gottfried's work in television soon led to roles in film. Most notable was his improvised scene as business manager Sidney Bernstein in the hit sequel "Beverly Hills Cop II," for which the New York Daily News said, "Gilbert Gottfried steals the picture with a single scene." Aside from his glowing reputation in comedy clubs, Gottfried began to gain a reputation as the king of quirky roles in both movies and television. He appeared in such movies as "Problem Child," "Problem Child II," "Look Who's Talking II" and "The Adventures of Ford Fairlane." He was also the host of the very popular late night movie series "USA Up All Night."
After his stellar performance as the wise cracking parrot, IAGO, in the Disney classic "Aladdin," Gottfried became one of the most recognizable voiceover talents, lending his voice to several commercials, cartoons and movies, including the frustrated duck in the AFLAC Insurance commercials. Gottfried also is the voice of DIGIT in the long running PBS Series "Cyberchase," can be heard on the Comedy Central series, "The Annoying Orange", and as the voice of the horse on "Family Guy."
Gottfried appeared on the ABC reality series "Celebrity Wife Swap," swapping with Alan Thicke, numerous Comedy Central Roasts and the Comedy Central series, "The Burn with Jeff Ross." Gottfried's hilarious viral video reading of "Fifty Shades of Grey" (College Humor) received over 4 million views on YouTube. Gilbert is a frequent guest on "The Tonight Show with Jay Leno" and "The Howard Stern Show." In addition, has had a recurring role on "Law and Order" SVU as TARU tech Leo Gerber.