Beat Bad Dog Breath Without A Toothbrush
Your Pets My Dogs wants to know can you say Woof! Woof! Yes you can! And we believe if you take a listen to this great interview with our fantastic host Lisa Smith-Putnamand Kainoa Clark one of the members of the OraPup All Star team - your dog will be saying it too! After all Woof! Woof! is your dog's way of saying THANKS! Thank you to you!
If you love your pets like you love your kids, then you'll probably want to hear all about the Orapup, which is a doggy tongue cleaner that promises to combat bad doggy breath by getting rid of it, right at the source. No one loves anything better than having your dog run up to you and give you a great big ole' doggy kiss! But-HOLY MOLY, doesn't the "love" dissipate quickly when you get a whiff of your pup's bad breath? We know that YOU know EXACTLY what we are talking about…we think all will agree that smelly dog breath is the worst!
A dog's bad breath signal can often be an indicator of health issues, such as dental or oral health problems and your veterinarian would be quickly to ascertain that fact. However, many times it is "halitosis" and is a common issue for dogs (and their owners). Here comes LSP (Lisa Smith-Putnam) to the rescue! Lisa believes she has found the solution in OraPup and wants to share it with you. Orapup combines ultra-soft pointed bristles with four in-line scrapers, which collect and remove bacteria from the dog's tongue. Sounds complicated? No, not really - tune in and have a listen… heck, this one will even have your cat saying Meow to you too! The cool thing about the Orapup is that you don't need to hold them down, because it's been designed to clean your pooch's tongue in the easiest way possible: by having them lick it. Enjoy!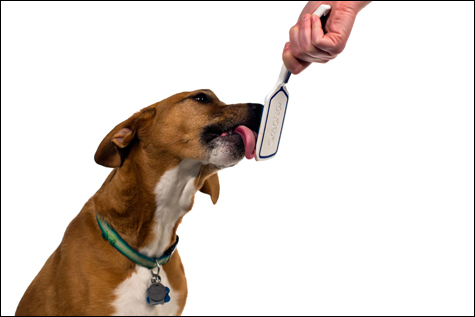 Designed by Orabrush Founder and Chairman Robert "Dr. Bob" Wagstaff, the Orapup combines ultra-soft pointed bristles with four in-line scrapers, which collect and remove bacteria from the dog's tongue. A formula made with all FDA-approved ingredients and developed to help prevent gum disease and reduce tartar is applied to the surface of the Orapup to entice dogs to lick the brush, allowing them to clean their own tongues. The Orabrush team spent seven months researching and developing this healthy, edible product with a flavor and consistency that dogs enjoy. Studies have shown that in humans 90 percent of bad breath comes from bacteria on the tongue.
"Soon after we launched Orabrush in 2009, many of our customers began asking when a version would be available for their dogs," said Jeff Davis, CEO of Orabrush. "The Orapup has been near to the heart of our founder Dr. Bob for some time, and was a natural addition to the product line. The Orapup continues Orabrush's tradition of product, business and onlineinnovation. After struggling with traditional marketing methods to gain traction with its patented tongue cleaner, Orabrush achieved breakthrough success by implementing its novel "reverse marketing model." Using this approach, Orabrush succeeded in cultivating a thriving online fan base through the use of YouTube videos.
With more than 49 million channel views, the company has created one of the top subscribed sponsor channels on YouTube – behind brands like Apple and Old Spice – and ultimately transformed that online support into distribution at more than 30,000 retail locations around the world.