Mermaid Melissa
Your Pets My Dogs with hostLisa Smith-Putnam welcomes Mermaid Melissa to this weeks show! This is a "WOW" show! We know, we know, we tell you every week how great of a show we have in store for you, but this week words can not even describe what you are about to hear. This week we are very excited to share with you our interview with Mermaid Melissa. She is truly one of Lisa's favorite guests. Mermaid Melissa is such a delight! We love how passionate she is regarding her love of planet and what she does to protect it starting with our marine mammals.
What? You don't believe in Mermaids? Neither did we until this interview. "… I grew up by an inlet in Flagger County, Florida where dolphins were constantly around me when I would swim. I can recall holding my head underwater unable to see anything but hearing their clicks all around me like a secret code to come into their world. When it came time for me to work with these animals face to face, the adjustment came very easy having studied Marine Biology since I was a teen reading up on these fascinating animals of the sea…"
Your Pets My Dogs invites you with our host Lisa Smith-Putnam into the world of Mermaid Melissa. We hope this will not be our last encounter with this mythical creature of the sea as there is so much more to learn about our oceans and the life and beauty the hold within like Mermaid Melissa!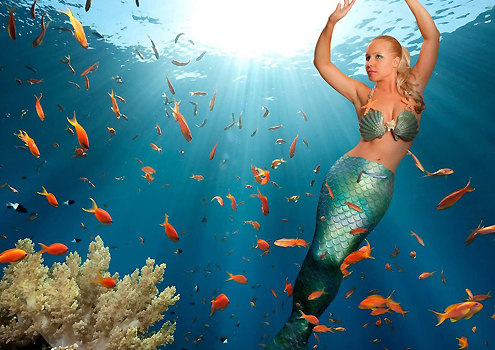 Mermaid Melissa is the only woman in the world legally named Mermaid! This extraordinary one-of-a-kind education to her aquatic lifestyle is used for promoting ocean education through underwater entertainment. Her slogan? "Let's help save the oceans before all creatures become mythical." She makes appearances around the world performing underwater breath hold showcases (her longest being 5 minutes) with a licensed Mermaid Entertainment Aquatic Company.
Mermaid Melissa as a young surfer girl from Saint Augustine, Florida grew into something of a lifelong quest to achieve an aquatic career. Her respect for the planet grows daily from relationships with animals, knowing that if we do not help them, who will? The tough decisions we have to make as a human race now determines our fate on how the planet thrives, how we survive, and will reflect on how we treat others in the future.
Mermaid Melissa is well known for the one of a kind skills of having both worked with, and helped protect marine mammals both in the ocean and learning from her work in aquariums.
Tim learned that he could communicate telepathically with animals in February 2004. Until then, he had no idea that he had this ability.
He was initially surprised to find himself being able to communicate with animals of all types. Because Link was caught off guard by his own gift, he is adept at helping people hone in on their own communication skills, using the spoken and the visual, and then focus on particular behaviors. Unlike most training methods, Link's approach respects the individual personality and feelings of animals. His methods, simple and accessible to all, facilitate the understanding that all animal lovers crave.