Never Turn Your Back On An Angus Cow
The star of Nat Geo Wild's, The Incredible Dr. Pol, Dr. Jan Pol joined Tim in this episode to talk about his recently released book, Never Turn Your Back On An Angus Cow. Tim asked about how he came to write the book with author David Fisher, the writing process and what his thoughts were of the final results. Tim also asked Dr. Pol about the upcoming season of his hit television show. If you enjoy The Incredible Dr. Pol show,you don't want to miss his interview on Animal Writes.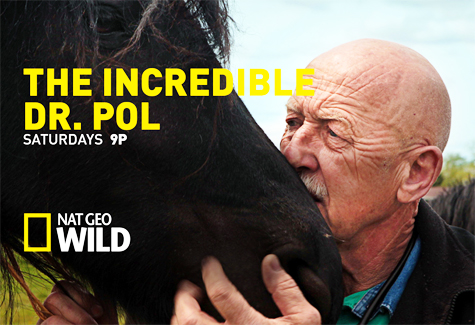 Growing up the youngest of six on a dairy farm in the Netherlands, star of National Geographic Wild's #1-series and highest-rated telecast since the inception of the network, The Incredible Dr. Pol (Dr. Jan Pol), is no stranger when it comes to animals. As a child, he lived among dairy cows, sheep, pigs, chickens, geese, turkeys, rabbits, dogs and Friesian horses, to name a few, and helped deliver his first litter of piglets at the ripe age of 12. A defining moment as it would be for any young boy, that was when the young, pre-doctorate Jan Pol decided that there was no other career for him—that his life calling was a veterinary calling, spoken and delivered to him via a piglet delivery.

An enthusiastic and naturally-inclined scholar all around, Dr. Pol has been practicing veterinary medicine for over 35 years since graduating from Utrecht University in 1970. Opening the doors to his first practice in 1981 with his wife, Diane, Dr. Pol's became an expert in large farm animals. Seeing the depleting dairy farms in Michigan, Dr. Pol knew that there weren't any other veterinarians helping the farmers manage the health of their herds and made it his personal agenda to revive the herds and return profitability back to the farmers.

Through the years of his practice, Dr. Pol has seen an extremely wide array of animal injuries, from the common to the very peculiar (he recounts treating a snake that was chewed on by a rat, which actually should have been the snake's food!). Dr. Pol along with his son Charles and his 10 employees have treated approximately 20,000 clients since opening their doors.

A firm believer in spaying and neutering animals, Dr. Pol continues to be active with his local philanthropic organizations 4-H and FFA (Future Farmers of America), non-profit charities that help teach young adults how to take proper care of animals. He believes that children who are taught to take care of animals at a young age make better adults.

When Dr. Pol isn't working, he enjoys spending time with his wife discovering new and exotic destinations, scuba diving in the Caribbean and traveling across Europe.