The Most Famous Dog on Instagram is a Voice for the Homeless
Tuna, the 4 year old Chiweenie rescue with a big overbite, has become an Instagram sensation with his adorable photos and uplifting message of rescue. 1.5 million followers want to know what Tuna's up to and you will, too, once you meet this charming guy.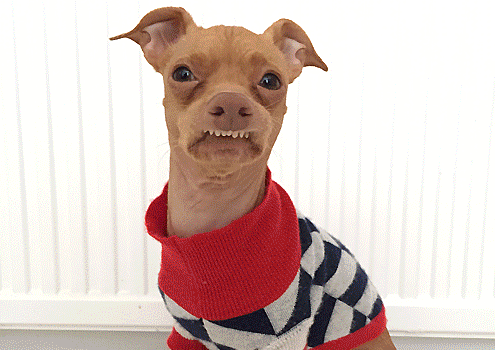 Tuna is a 4 year-old Chiweenie with an exaggerated overbite, recessed jawline and a magnificent wrinkly neck (a.k.a shrivelneck). He was rescued by Courtney Dasher in December of 2010 at a Farmers Market in LA when he was a four-month old puppy. A year into their friendship, Courtney created an Instagram account dedicated to Tuna's photos. At the end of 2012, Tuna's notoriety grew on Instagram when they featured a picture of him on their personal page, unbeknownst to her. He now has over a million followers on Instagram.
Courtney never anticipated the kind of response that she has received from people's adoration for Tuna. In fact, when she created his account, she had no agenda to garner a large following, but she did recognize that Instagram could be a catalyst to bring people joy through Tuna's pictures that showcased his cartoonish looks and his charming personality. That has proven to be true because Courtney receives countless comments and emails daily about the impact that Tuna is making on their lives.
Since Tuna is the epitome of the underdog, most people advocate for him and adore him for his endearing qualities. His loyal followers embrace his physical differences, have fallen in love with his charm and connect to his message; that true beauty comes in all forms and radiates from within. Furthermore, he is an ambassador for animal rescue, since he too was once rescued, and it has become a part of Courtney's mission to raise awareness for rescue groups through this platform.