Pupparazzi! Meet One of NYC's Most Talked-About Dog Photographers
New York City is pup central when it comes to pooch parties and Instagram celebs. Jason Howard, better known as NYCDogSwag, is the photographer courted by those New York City dog moms and loved by their dogs. A picture from him could mean the difference between Instagram fame or fizzle. Who is this arbiter of all things doggy style? Discover how the puparazzi works when it comes to dogs in the city, and hear some behind the scenes tails of Jason's adventures!
Read more on the Bark & Swagger Blog!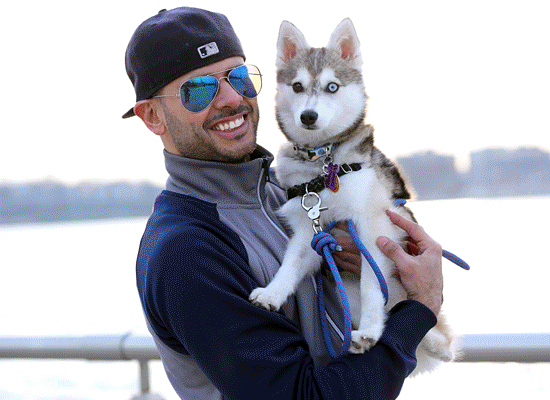 NYCDOGSWAG is a New York based dog lifestyle brand that captures incredibly unique photos of dogs and their owners, provides design and creative services, has its' own clothing brand, as well as party planning and production of events. The company seamlessly combines its' distinctive images with editorials, marketing campaigns and events that are published on the e-publication website, www.nycdogswag.com.  This content generates revenue via paid placement and advertisement dollars, a portion of which is used to help animal shelters and rescue organizations.  The concept has grown from a professional photographer and dog enthusiast's hobby with an Instagram page with approximately 16,000 followers, to a full e-publication whose staff includes graphic and fashion designers, writers, editors, marketing gurus, branding experts and celebrity dogs.
As an established, professional photographer, Jason Howard has taken pictures of models, celebrities and high profile events for over 15 years.  He is an internationally published photographer whose photos have appeared in CNN, People, InStyle Magazine, E!, NY Daily News, NY Post and other publications.  He has served as a staff photographer for several popular night clubs as well as high trending multimedia outlets such as Playboy, Mob Candy Magazine, Splash News and product brands that include Double Cross Vodka and Audemars Piguet.
Through his years of experience, he has discovered and developed a few relevant trends.  His Instagram pages and photos centered on dogs have attracted only praise in its comments section, and the user interaction levels are extremely high in comparison to his professional photography page which has a relatively similar amount of followers.  The viewers also tend to notice more details which are never noticed when photographs of humans are being posted no matter how popular they are.  People tend to not pass judgement and be less skeptical when dogs are included in brand placement or celebrity marketing.  The natural human insecurities such as jealousy, political and religious beliefs, as well as, racism disappear when dogs are at the center of a picture. With the help of his partner, Martin Barwikowski, they have identified and expanded these qualities and affinities into a profitable, self-sustaining dog lifestyle brand.
The website creates a portal, not only to entertain dog enthusiasts, but also to function as a lifestyle brand for dog owners, charities, rescues and dog lovers everywhere. NYCDogswag takes its daily physical interactions within the dog community and then creates a virtual extension of the day on its social media platforms, in order to give their users a unique experience created solely for their beloved animals.  The company has recently launched the first of its luxury dog clothing line. NYCDogswag polo shirts will be available for sale via its' online store in the second week of April.  The company expects to release three more designs throughout the summer which will culminate into a full fall clothing line that it intends to present during NYFW this summer.
After a year of carefully analyzing trends and the reactions of its' followers, as well as a lifelong desire to help dogs, NYCdogswag serves as a singular, cutting edge vehicle for advertisers, vendors and advocates to display their products, services, establishments and campaigns across a unique social media platform.  The website educates, informs and promotes everything having to do with a dog's daily life.  The site intends to provide insight on specific breeds' habits, behaviors, diets and other personal content captured through the owners' eye.  Since dogs can't speak, it is something that only their best friend can do for them.
NYCDogswag.com showcases and advertises the same professional photography services that has served as a staple of its growth on Instagram.  In order to generate revenue and build brand awareness, the company also hosts events centered on holidays and recognized dog themed occasions, as well as donating its services to many rescue based parties through its charity work.