Opera Singer Turned Fine Visual Artist Shows Her Love of Rescues Through Her Creations
Martha Cares creates gorgeous enamel and steel sculptures, keychains and jewelry pieces in honor of and to benefit rescue animals. Her iconic Red Dog, a symbol of rescue, has been seen all over the world and her sculptures have been exhibited in museums, parks and festivals. Today, she's sharing her story of how she went from being an accomplished, award-winning opera singer to a fine, visual artist focused on rescue and how her dog, Poppy, inspired her.
Read more on the Bark & Swagger Blog!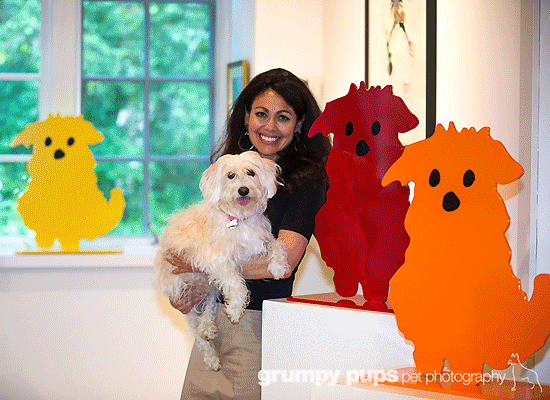 Born and Educated in Michigan, Martha Cares is a classically trained vocalist and visual artist. Her operatic career is highlighted by roles she has performed with the Lyric Opera of Chicago, Florida Grand Opera, Grant Park Music Festival, Milwaukee Opera Company and Chicago Opera Theatre. In addition, Ms. Cares has been heard as guest solo artist with symphony orchestras including the Miami Chamber Symphony, the Grand Rapids Symphony, the Racine Symphony and the Tulsa Philharmonic as guest solo artist with international opera star Simon Estes.
As Grand Prize winner of the International Bel Canto Opera Competition, Miss Cares traveled to Italy making her European debut.
Most notably, Ms. Cares sang over one thousand performances of the highly acclaimed PHANTOM OF THE OPERA national Broadway production, directed by the legendary Harold Prince.
Her voice is heard in numerous nationally televised commercials including those for McDonald's and the Clio Award winning United Airlines and Cheer campaigns. Hal Leonard Publishing Company chose this versatile artist as soloist for its many commercial recordings spanning repertoire from Musical Theatre Classics, to the music of George Gershwin, Contemporary Musical Theatre and Seasonal Concert Classics.
Miss Cares earned her Master of Music degree with Distinction from the University of Michigan School of Music, her Bachelor of Music degree from University of Michigan as well and attended Interlochen's International Music program as part of her undergraduate studies. She is an Alumna of the prestigious Lyric Opera Center for American Artists, Ryan Opera Center, Lyric Opera of Chicago's resident program.
In tandem with her highly successful career as a professional vocalist, Martha Cares is recognized for her sizable contributions as a visual artist. Her sculptural works have been selected for exhibition by the Krasl Museum's Biennial Sculpture Invitational and for four consecutive years Ms. Cares has been invited to exhibit her artwork at the coveted Ford Museum in Grand Rapids, Michigan. In addition, Martha's sculptures have been exhibited in Saint Charles, IL for the past three years as part of the Sculpture in the Park Exhibition as well as the Dogwood Fine Arts Festival. Recently her Sculptures were purchased by the City of Hastings Michigan as a permanent installation.
She is the creator of My Rescue, the highly popular iconic Red Dog, now recognized on a national level as a symbol of rescue, and inspired by the adoption of Poppy, the artist's beloved Rescue. Most recently, her endearing and sweet LullaBunny Creations have captured the hearts and imaginations of all who meet them!