On My Honor....

You've probably heard about the Girls Scouts and Boy Scouts, rght? But how about the Pup Scouts? Founded back in 2010 , PupScouts.Org is an International Organization, with troops across the country and in Canada.
The Pup Scouts have appeared on the Nat Geo Wild Network in "Spoiled Rotten Pets", on Good Morning America, on Nightline, and best of all...on my show "Pet Talk."  Today we get up close and personal with founder Susan Godwin, and National Troop Leader Jennifer-Jo Moyer.... right here on "My Dog Digs Dirt":....find out how you can join!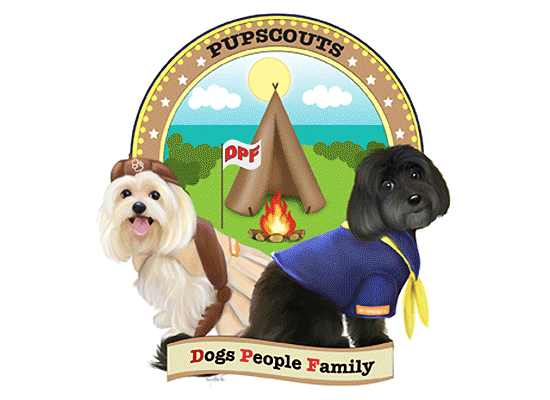 PupScouts Org (aka PupScouts of DPFamily) is an international organization founded in 2010 by Susan Godwin and Lela Hadick. In 2011, Morkie, Tasha Bella (with Mom, Susan Godwin) and Poodle, Meteor (with Mom, Jennifer-Jo Moyer) took over as National Troop Leaders.
What started as a small group in NYC and online, grew into an International organization, once the PupScouts appeared on Nat Geo's "Spoiled Rotten Pets". That led to additional National TV appearances on NBC's "Nightline" and ABC's "Good Morning America".
PupScouts Org is dedicated to raising money and awareness for other dog charity organizations. It is also a group for dog owners who enjoy doing social activities with their dogs. We find a balance between our fundraising and fun events to keep us going all year long.
Our Troops across the Country, have monthly meetings, leadership events and annually participate in 2 walks – Bark for Life and Strut Your Mutt. In 2013, PupScouts Troop 4 in NYC, won the Golden Mutt Award for Strut Your Mutt, for raising the most funds as a Team. We also had a Fundraiser in 2013, that raised $1,365 for the Mayors Alliance for NYC's Animals. In 2014, we were thrilled to announce a partnership with two Treat Companies from NYC, Spoil Me Rotten and Little L's Krak'ems, for a special edition PupScout Treat – for our PupScout Cookie Sale to raise money for our favorite animal charities.
Our PupScouts are very proud of all the badges they earn, including Swimming, Hiking, Arts & Crafts and Doga (Yoga for Dogs). But we are even prouder of our team effort to help our  Community, as stated in our pledge. Each year around the Holidays, we have a Toy Drive, Food Drive and we visit Nursing Homes to sing Christmas Carols.
PupScouts is growing every day and has over 10 Troops across the Country, along with a Troop in Canada and an online Troop. So if there's not a Troop in your city, we recommend you try our online Troop or possibly become a Troop Leader and start a Troop in your area. Come join us and become a PupScout!!!