The Gentle Giant

Considered by many to be one of the most Versatile and perhaps one of the Oldest dog breeds... the Newfoundland is a large, strong, devoted dog from the working class. He is a multipurpose dog that is capable of heavy work both on land and in the water... not only are they strong powerful swimmers, Newfoundlands excel on land by pulling carts with heavy loads, being assistance dogs, therapy dogs, companions and saving lives in search and rescue missions. On this episode of My Dog Digs Dirt, meet Judith Marshall president of the Colonial Newfoundland Club... and find out more about this wonderful breed.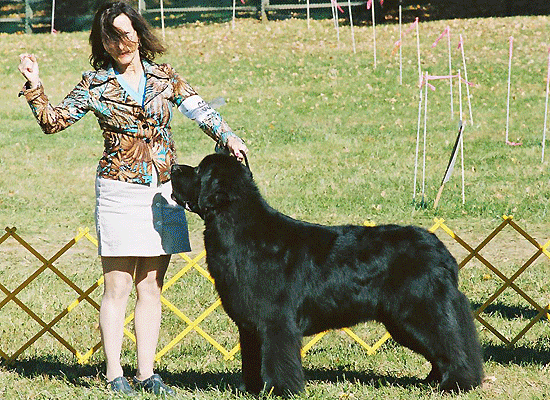 My name is Judith Marshall, President, Colonial Newfoundland Club, Inc., and former Treasurer and Membership Chair. I've been a member of the Club for approx. 20 years; joined as soon as I got my first Newf puppy, Brenin, from a very reputable breeder. MY second Newf Alfie and third Newf Enzo were young adult rescues. I currently have:
Enzo, a 155 lb male black Newfoundland now 6-1/2;
Mercedes, a Terrier Chow, etc. mix and Stella, a Dutch Hound mix;
2 Maine Coon cats Butterball and Merle;
Eclectus Parrot from Solomon Islands Libby;
and 32 chickens (unnamed) and 2 roosters Louie C.K. and Dewey.
In 2014 I moved to a farm in Shepherdstown, WV from Maryland, retired from my corporate job, and got married. All above pets except Enzo the Newf were part of the marriage package.
I first became interested in Newfoundlands as a single woman who loved to hike, camp, and collect fossils. People thought I was naive (and crazy) to go off on my own into the wilderness. I thought a large intimidating dog would be a great companion on my solo adventures. I researched several giant breeds and fell in love with the Newfoundland who, though intimidating, is a very gentle breed.
No mission statement but Colonial Newfoundland Club objectives in its Constitution are :
1. Encourage and promote the interest in and quality of purebred Newfoundland Dogs and to do all possible to bring their natural qualities to perfection in accordance with the Newfoundland Club of America Ethics Guide;
2. Encourage members and breeders to accept the standard for the breed as approved by the American Kennel Club as the only standard of excellence by which Newfoundland Dogs shall be judged;
3. Pursue the broad aims by planning, conducting and sponsoring of events and activities such as but not limited to, sanctioned and licensed specialty shows, obedience trials and water tests, as well as matches, draft tests, educational programs, and community interest activities;
4. Do all in its power to protect and advance the interests of the breed and to encourage sportsmanlike competition at exhibitions, contests, and other club-sponsored activities;
Promote the special qualities of the breed by sponsoring working dog activities under the rules of the Newfoundland Club of America;
5. Cooperate and encourage the objectives and sanctions of the Newfoundland Club of America, In.c and to do such other things as may be deemed expedient and for the best interests of the Club.