Hang Ten ! All Paws on Board for Surfing Dog Ricochet

She's known around the world for her surfing abilities, but her true calling is helping others. On this episode of My Dog Digs Dirt meet Ricochet , an amazing Golden Retriever, who is not only winning surfing contests... she is changing people's lives. Join me, Lauren Collier and her mom, Judy Fridono, Executive Director of Puppy Prodigies Neo-Natal & Early Learning Program.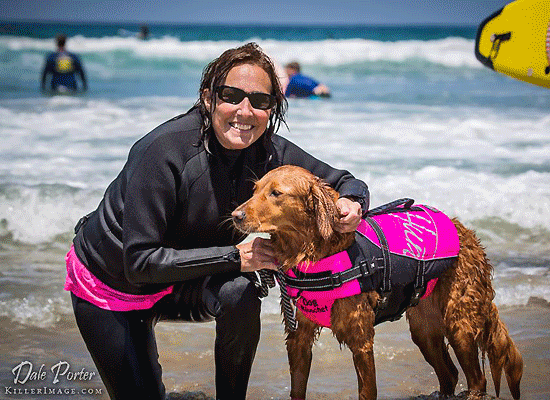 My name is Judy, and I'm the founder of Puppy Prodigies.   I've been hanging out with, and training animals since I was a young girl.  I remember, when I was about 8 years old, teaching my first golden retriever to jump through a "hoop", which was actually an old bicycle tire (see picture below).  About this same time, a dear friend of our family's found out that her son was hearing impaired.  I marched over to their house holding my dog's leash with one hand, and my jar of pennies with the other... determined to make a difference.  I left the jar with them that day in hopes they could buy a hearing aid, but in retrospect, I should've left the dog! 
Shortly after that, I was diagnosed with juvenile rheumatoid arthritis and due to the pain and degenerative nature of my diagnosis, I wasn't able to partake in many of the extra curricular activities that my friends did.  So, I put my young heart and energy into charitable causes, finding great fulfillment and realizing I could do more than just save pennies!  I stayed on my volunteer course for many years and finally came upon the opportunity to combine my love for dogs with my desire to make a difference.  I started puppy raising for Canine Companions for Independence.  Later, I attended the Assistance Dog Institute's associate degree program, and explored the work of Bonnie Bergin.  After that I volunteered and trained dogs at several service dog organizations which has given me a well rounded perspective of different techniques for training and placing dogs within the industry, as well as using this knowledge for rescues.  In addition to Puppy Prodigies, I volunteer for Pawsitive Teams with my own service dog as part of their goal directed therapy program working with children. I also have a "change of career" dog from Puppy Prodigies name Ricochet. She is now a SURFice dog who raises funds & awareness for human/animal causes as part of Puppy Prodigies.
I have a bachelor's degree and my previous corporate life included a career in healthcare administration/business development.  I've also received certificates from San Francisco's Hearing Dog Program and the Marin Humane Society's Canine Behavior Academy.  I'm a certified professional dog trainer, and know the value of education, so I stay current on the latest training techniques, and attend many seminars each year taught by some top professionals in the field of dog training.  I stay abreast on the research of puppy development, which includes interaction with animal behavior researchers so I can make adaptations to the program as necessary.
But, it's the puppies who have taught me the most!  I have been blessed with the opportunity to work with them and see first hand what they're capable of.  To see the outcome of early intervention.  To observe their young minds developing.  To watch them flourish.  To witness the transformation from young puppy to adult dog with a deep rooted quest to be of service.  It's this experience and passion, coupled with the desire to make a difference and the physical limitations of my childhood (that turned out to be limitless)... that I started Puppy Prodigies.  The puppies I have worked with have taught me more than I could ever teach them, and it's my wish that I can share my experiences... and my puppy love with you!