Dogs in the Courtroom

Testifying in court can be a terrifying experience....but victims of crime now have a new four-legged advocate to help them out... specially trained dogs, thanks to a wonderful organization called Courthouse Dogs Foundation, that promotes the use of  dogs in the courtroom  to provide comfort and emotional support to people in legal proceedings. who might need it.  Courthouse Dogs was founded in 2004, and presently employs 87 dogs working in 28 states.  On today's show we meet Celeste Walsen, one of the founders and now the Executive Director of the Courthouse Dogs Foundation.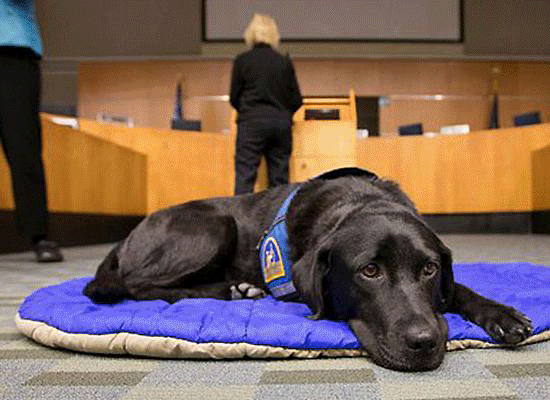 Celeste Walsen, the Executive Director of the Courthouse Dog Foundation, assisted in the creation of the Courthouse Dogs Foundation in 2008. Celeste has raised four puppies for Guide Dogs for the Blind and Canine Companions for Independence. One of those puppies was Jeeter's sister Junie, who also became a service dog. Celeste also served on the Board of Directors for the non-profit organization Seattle Purebred Dog Rescue.
Celeste graduated from UC Berkeley with a BA in Psychology and obtained her degree in veterinary medicine from Louisiana State University in Baton Rouge. Celeste facilitates the scientific research in this field between the assistance dog organizations, the academic community, the courthouse facility dog handlers and the Courthouse Dogs Foundation.