Touching the Sky
Falconry…what does this word bring to mind?  You may envision the European nobility riding through the countryside with a majestic hawk on their outstretched leather enveloped hand.  Using hawks and falcons for hunting dates back to ancient times.  Few people still hunt with birds but falconry enables these spectacular creatures to enjoy a symbiotic relationship with man.  They also serve an important role as sentinels to the health of our planet.
I had the pleasure of visiting with two licensed falconers in San Diego California, at Sky Falconry, where I was privileged to fly a trained bird and for a little while touch the sky through the wings of a Harris hawk.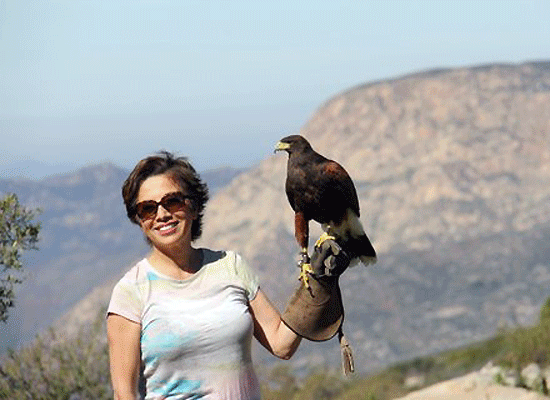 Kirk Sellinger

Kirk Sellinger began working in outdoor education in college as a rock climbing instructor and ropes course facilitator. It was there he learned what a profound experience it was for people to push their comfort zone.

Soon after completing a degree in TV/Film production, he traveled the globe for nearly a decade with National Geographic/Lindblad Expeditions as a videographer. There it hit upon him how important it was for people to have experiences in the natural world to truly appreciate and care for it.

In places like Galapagos and Antarctica, where the wildlife is unafraid of humans, Kirk had the opportunity to film the same nesting areas regularly and thus began his fascination with the lives of birds. He began powered paragliding in 2005 and in 2009 decided to ditch the motor and start free flying to get closer to birds in flight. After settling down in San Diego County, in 2010, he realized his dream of becoming a falconer as well as flying with "his" bird in a paraglider, an activity known as Parahawking.

Kirk is also a tandem free flight paragliding instructor and loves to share his passion of birds on the ground and in the sky.

Denise Disharoon

Denise Disharoon has a deep passion for birds of prey that traces back to childhood. Her extensive travels and experience leading nature adventures for conservation and education throughout Latin America gave her the opportunity to witness predatory birds in their natural environment. Her keen ability and love in working with raptors paired with her experience in teaching makes her a great fit for Sky Falconry.

A Metalsmith and Jewelry Designer by trade, birds in flight and feathers inspire her jewelry designs handmade from recycled silver, gold and ethically sourced materials that can be found in stores across the United States.