Join Us for a Special Celebration of Whistle's Retirement!

We invite you to join in the celebration of Whistle's retirement as Marcie's service dog and co-host! It's a special day when you meet your assistance dog and it's also a special day when they retire from a job well done! Join Marcie and special guest, Franz Freibert (Whistle's dad), as we reminisce about Whistle's life as an assistance dog, share favorite stories and talk honestly about the issues that handlers need to address when facing an assistance dog's inevitable retirement.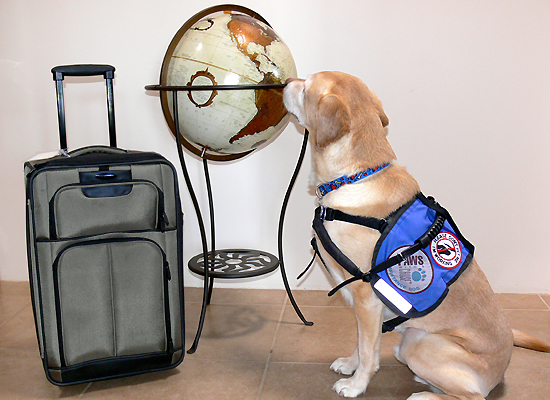 Whistle pondering his travel plans
Franz Freibert is Deputy Director of the G.T. Seaborg Institute for Transactinium Science and a Research Scientist at Los Alamos National Laboratory (LANL). He received a Mathematics and Physics BS and Polymer Physics MS from the University of Southern Mississippi (1989) and PhD, Physics, Florida State University (1996). After completing his PhD, he accepted a Postdoctoral Research Associate at LANL in the Condensed Matter and Thermal Physics Group. In 1999, he joined the LANL technical staff of the Nuclear Materials Science Group, then became Project Leader for the Accelerated Aging Project supporting the DOE Complex Pit Lifetime Assessment. Also, Dr. Freibert managed as Team Leader for the Dynamic Testing and Materials Physics Team within the Nuclear Materials Science Group for seven years. His research has focused on self-irradiation damage and aging in Pu, thermodynamic properties of phase transformations and phase composite alloys, and preparation of actinide materials and samples for unusual/unique experiments. Dr. Freibert is a trusted Subject Matter Expert and collaborator throughout the DOE Complex and internationally in the field of plutonium physics where his technical knowledge and experience have been invaluable in experiments in physics performance, strength and damage, eq. of state, and crystallographic structure. Dr. Freibert is a member of the American Physical Society and the Materials Research Society and is active in international interactions such as US/UK Joint Working Groups and the US/Russia "Fundamentals of Plutonium" Workshops.  He has served on numerous technical internal and external peer review committees and his accomplishments have been awarded with numerous LANL Distinguished Performance Awards and NNSA Defense Programs Awards of Excellence.