The Little Horse With A Big Heart!

Join Lovey and Marcie as they welcome Shelly Mizrahi and Amos the Wonder Horse to the show. Shelly talks about Amos' gratifying work as a miniature, therapeutic horse! Together, Amos and Shelly visit nursing homes, memory care units, schools and hospitals to bring smiles to everyone Amos meets! Shelly shares how she works with Amos to teach him many incredible skills such as how to play basketball with the Harlem Globetrotters, solve a puzzle, and play the xylophone. You will fall in love with this little horse with a big heart!!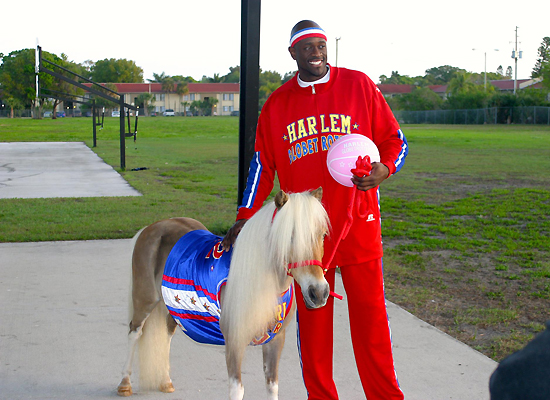 Amos the Wonder Horse provides animal-assisted therapy services to nursing facilities throughout the Tampa Bay area. He is the first equine allowed at All Children's Hospital, where he visits monthly.  He is also a volunteer equine officer with the St. Petersburg Police Department. He and his partner visit schools to teach his "Just Say Whoa™ to Bullying" program. This new program has touched nearly 10,000 school children since January 2014.

Amos is also well known for shooting hoops with the Harlem Globetrotters, who made him an honorary goodwill ambassador for his community service work with special needs children and adults. He's visited schools and made appearances statewide with the team. Amos has also appeared in studio on the Today Show, as well as Sabado Gigante, Right This Minute, and Daytime. He's been featured in dozens of newspapers, websites and lifestyle and equestrian magazines, including National Geographic Kids magazine and one of their books.