The World Dog Awards CW Television Special! Mega Stars! And… Our 100th Show!
It's A Super Smiley Adventure's 100th show, and we're celebrating 'Everything Dog' live at The World Dog Awards! This CW canine television special is The Academy Awards for dogs! We meet the nominated dogs from pop stars to icons like The Wiz's Toto! The human stars give us their up close and personal insights on dogs. Modern Family's Rico Rodriguez (Manny) and his super precocious television niece, Lily, join our Adventure. We talk with Emmy nominee, Amy Brenneman, Angel from Hell's Maggie Lawson, Empire's Ta'Rhonda Jones, Jason Schwartzman from Mozart in the Jungle, Shanice Williams who plays Dorothy in The Wiz Live!, along with Toto and his trainer. "Max" the War Dog is here; Kirstin Maldonado from the Grammy winning, platinum selling a capella group Pentatonix sings Somewhere Over The Rainbow to honor Toto; and the list and surprises go on and on. We wanted a super special show for our 100th. And, the amazing World Dog Awards hits it Over the Rainbow!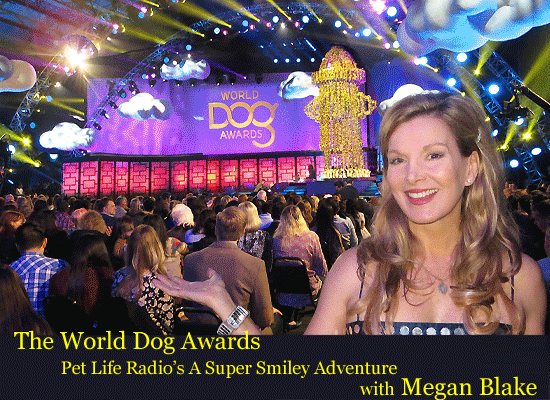 Maggie Lawson
Born and raised in Louisville, KY, Lawson started appearing in local community and dinner theater when she was 8 years old. She became a youth journalist for a local news station before moving to Los Angeles.

Lawson was most recently seen in a season-long arc as Ms. McMartin on the 12th and final season of "Two and a Half Men, on the Network. She is also known for her role as Juliet O'Hara on the series "Psych." Other television series credits include "Back In The Game," "Justified," "Crumbs," "It's All Relative," "Inside Schwartz," "E.R.," "Party of Five" and "Felicity." Television movie credits include "Killer Hair," ""Hostile Makeover," "Model Behavior" and, on the Network, "Revenge of the Middle-Aged Woman." Her film credits include "Cheats," "Pleasantville," "Nice Guys Sleep Alone" and "Cleaner."

Lawson is an animal-lover and the co-founder of The Tiger Frances Foundation (TTFF), a non-profit organization to end animal abuse and place animals in loving homes. She is especially proud of Love On Paws, a program created by TTFF to bring rescue animals into the classroom, sharing their stories with kids to help foster empathy and compassion, important components in the quest to end abuse. The program is currently partnered with Communities in Schools and School on Wheels.

Currently, she resides in Los Angeles with her soon-to-be husband, Benjamin Koldyke. Her birth date is Aug. 12. Follow her on Twitter at @maggielawson.
Mark Feuerstein
Mark Feuerstein got his break-through on television as a recurring character on the daytime soap opera Loving (1983). Most of the people in his family are lawyers. He was a high school state championship wrestler. He enjoys mountain-biking, wrestling, dancing (hip-hop to salsa) and jogging.

He got the nickname "Chaplin" on the set of Giving It Up (1999) because of his uncanny knack of physical comedy. He even had a physical slapstick back-and-forth with Mel Gibson a year later on the set of What Women Want (2000).
World Dog Awards
THE WORLD DOG AWARDS airs Thursday, January 14 (8:00-10:00 pm ET), on The CW Network.  Hosted by George Lopez and filmed at the aptly named Barker Hangar in Santa Monica, California on Saturday, January 9, THE WORLD DOG AWARDS will combine the glamour of a Hollywood awards show with the appreciation for man's best friend.  THE WORLD DOG AWARDS will honor some of the most laudable pups on the planet, from the ones who have achieved fame in world of entertainment or on social media to everyday dogs who have had an indelible impact on the lives of their human companions. The show is produced by Juma Entertainment with executive producer Robert Horowitz, Josh Greenberg and George Lopez, and presented by IAMS™ and Subaru.