Lights! Camera! Dogs! Creator of the World Dog Awards – Bob Horowitz – Gives Us The Scoop!

It's the Academy Awards for Dogs, and we have the man behind the magic, Bob Horowitz! Bob shares behind the scene insights on how dogs inspired him to create a network television special starring dogs! - including the courageous little Toto from The Wiz!; heroic film star, MAX, from MAX The War Dog; Nickelodeon's Squishy Paws and many more paw-pular pups! In "supporting roles" he's assembled a sea of movie stars, television luminaries, and Grammy winners including the show's host, George Lopez, Emmy Nominee Amy Brenneman, and Modern Family's "Manny" and "Lily." Like in The Wizard of Oz, Bob Horowitz is the man behind the curtain making the magic, and when it comes to a show about dogs, he takes this one "Over the Rainbow!" #WorldDogAwards #SuperSmiley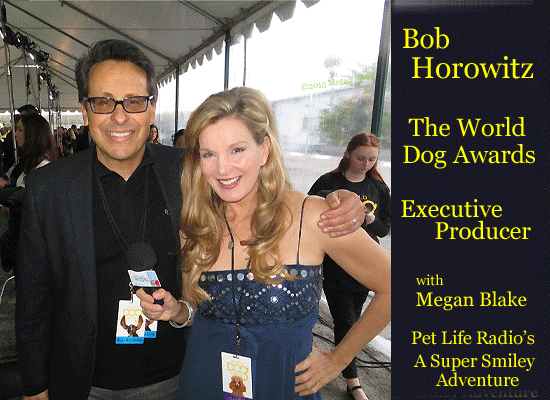 Robert Horowitz founded Juma Entertainment in June 2005 after a successful run as the head of International Management Group's U.S. television arm, Trans World International.

Horowitz conceived Juma Entertainment as a base of operations for his diverse interests in TV development, alternative media projects, live event production, and sports business consulting. The company's broad spectrum of capabilities enables Horowitz and his team of producers and project managers to provide turn-­‐key solutions for broadcast partners and corporate consulting clients.

Horowitz specializes in docu-­‐soup, character-­‐driven reality series, as well as dating and competition formats. He is the creator and executive producer of the hit variety game show THE SINGING BEE which aired on NBC and CMT.

Horowitz is also the executive producer of the annual CBS hit SUPER BOWL'S GREATEST COMMERCIALS, which he created over a decade ago. Horowitz has made connections with many advertisers in the Super Bowl ad space due to his work on the special, and therefore is often looked to for expert commentary on
Super Bowl commercials. The special is almost always the top-­‐ranked show the night it airs and often it includes behind-­‐the-­‐scenes looks at the commercials that will air during the Super Bowl broadcast.

Recently, Horowitz and Juma Entertainment have found success in the building/renovation genre, producing two seasons of the hit VANILLA ICE GOES AMISH—as well as a spin-­‐off, AMISH RENOGADES (both on DIY). Horowitz is also the Executive Producer of BARN HUNTERS for Great American Country.

Additional credits include the WORLD DOG AWARDS (The CW), SORORITY SISTERS (VH1), WORLD'S WILDEST COMMERCIALS (ABC), MAGIC MAN (Travel), DECEIVED (TV One), FNA USA (CMT), CLASH of the COMMERCIALS (CBS), THE CLIOS (NBC), SUPERSTARS (ABC), OCHOCINCO: THE ULTIMATE CATCH (VH1), THE ULTIMATE MERGER 1-­‐2 (TV One), DEER VALLEY CELEBRITY SKIFEST (CBS), DOUBLE EXPOSURE (BRAVO) and others. For more information, visit JUMATV.com.