A Dog and Elephant Help Kids Survive in Against The Wild - Survive The Serengeti

What's it like to film among herds of wild zebra, giraffes and elephants? Meet the young movie stars Ella Ballentine and John Paul Ruttan who gave us the inside view of filming in Africa Against the Wild.  And, they've worked with human super stars too from Michael Keaton to Susan Sarandon... and... they are true animal advocates! Yep, animals do lead us on adventures. And... This is a true Super Smiley Adventure!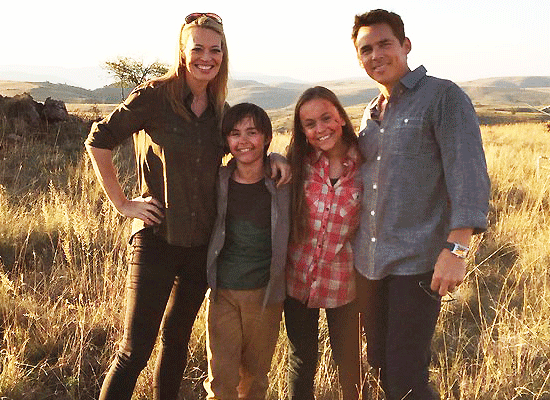 Ella Ballentine
Ella Ballentine started her career in film in a Hallmark TV movie starring Casper Van Dien (Baby's First Christmas (2012)). Since then she has played leading and supporting roles alongside such distinguished actors as Susan Sarandon (The Calling (2014)), Martin Sheen (Lucy Maud Montgomery's Anne of Green Gables (2016)), Ryan Reynolds and Rosario Dawson (The Captive (2014)), Laurence Fishburne and Thomas Jane (_Standoff (2015)_qv)), and Zoe Kazan in the currently under production feature, _There Are Monsters (2016)_qv). Films in which Ella has appeared have been screened at a number of film festivals, including Cannes in 2014.
Ella's theatre career encompasses independent and professional productions staged in her native Toronto, beginning with The Railway Children (Roundhouse Theatre, 2010) and then Numbers (Toronto Fringe Festival, 2013). Her triple-threat role in Numbers earned her the first of many award nominations for excellence by a young performer in film, theatre, and music. Ella was one of the young actors chosen to play the coveted role of Little Cossette/Young Éponine in Mirvish Productions' Les Miserables (Princess of Wales, 2013-2014), starring Ramin Karimloo and Earl Carpenter. Being part of this iconic musical production and superb cast is an experience she will forever cherish.
Ella's television experience includes roles in the historical fantasy Reign and on the medical drama series Saving Hope.
With four leading roles in less than a year, Ella also keeps up her singing, dancing, and academic studies. She is enrolled in a public school in Toronto, where she is fortunate to have supportive teachers who are committed to helping her achieve both her acting and scholastic goals. Amidst her busy schedule, Ella still finds the time to champion causes related to wildlife conservation.
John Paul Ruttan
John Paul Ruttan is a young teen actor, who started his career in film at the age of 6. His roles include acting alongside such talent as Reese Witherspoon and Tom Hardy in This Means War (2012), Abbie Cornish, Joel Kinnaman, Micheal Keaton and Gary Oldman in RoboCop (2014), Haley Joel Osment, Gillian Anderson in I'll Follow You Down (2013). He was nominated for his supporting role in This Mean War in 2013 and in 2015 won Best Supporting Actor at Hollywoods 36th Young Artists Awards for RoboCop.
John Paul first movie debut was in the TV movies Will you Merry Me? and The Two Mr. Kissels, followed by the short film Ninety-One. In 2009 he was in Defendor playing a younger jack (Dakota Goya) alongside Woody Harrelson.
John Pauls experiences have progressed his film career onto Lead role and is starring in the Feature Film Shelby (2014) as Jake Parker, with Chevy Chase, Rob Schneider and Tom Arnold debuting Nov 2015. In 2016 his lead in Against the Wild 2: Survive the Serengeti (2016), shot in Africa with Ella Ballentine and Jeri Ryan, will be released worldwide.
John Paul has many roles in TV that have earned him award nominations for recognition of young actors in Hollywood and Canada. His career started at age 6 with over 10 national commercials and moved steadily into principal guest starring and recurring roles in the Doodlebops, Degrassi, Lost Girl, Saving Hope, L.A. Complex, Rick Mercer Report, CBC Kids, BackPackers, The Listener and CBC AirFraces New Years Eve Special. He currently plays Young William Murdoch on TV series Murdoch Mysteries.
With a love for filming and camera's, John Paul is embarking on a high school Screen Arts Film Studies program where he will continue to achieve his scholastic goals. He contributes to acting in many independent short films and plays soccer and hockey in his free time.