National Service Dog Month! Helping Heroes! With Petco Foundation's Executive Director Susanne Kogut!
We're Rocking Service Dogs September through October! National Service Dog Month was founded by Natural Balance's Dick Van Patten; and Petco Foundation is continuing the Mission and Celebrating in a Big Way! Hear what these amazing Service Dogs do, how Petco Foundation is supporting them and what You can do to participate! Super Smiley is Super Smilin' on this Petco Foundation Adventure!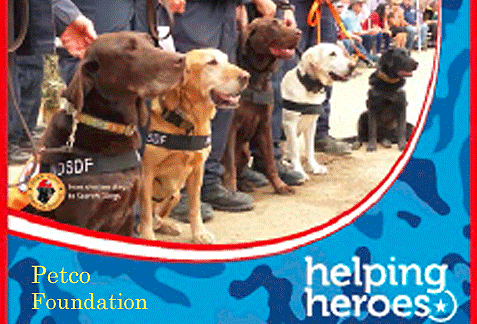 Susanne Kogut brings to the position of executive director of the Petco Foundation, a strong combination of leadership in public service, including animal-welfare, coupled with years of professional business and legal experience in financial services and as a Washington D.C. attorney. As the executive director of the Charlottesville-Albemarle SPCA in Virginia, Susanne transformed the struggling group into a model organization nationally recognized for its lifesaving achievements. Prior to joining the CASPCA, Kogut served in various roles at Capital One, including associate counsel, director of corporate finance and director of community reinvestment, where she oversaw all philanthropic giving, employee volunteer programs and financial investments to support low-income communities. 
Petco is a leading pet specialty retailer that provides the products, services and advice that make it easier for our customers to be great pet parents. Everything we do is guided by our vision for Healthier Pets. Happier People. Better World. We operate more than 1,200 stores nationwide and in Puerto Rico, including more than 50 Unleashed by Petco locations, a smaller format neighborhood shop, and www.petco.com. The Petco Foundation, an independent nonprofit organization, has raised more than $110 million since it was created in 1999 to help promote and improve the welfare of companion animals. In conjunction with the Foundation, we work with and support thousands of local animal welfare groups across the country and, through in-store adoption events, help find homes for more than 350,000 animals every year.