FOX's All Star Dog Rescue Celebration! Live from the Red Carpet!
Meet the Stars as FOX presents the 2nd Annual TV Special where Stars are shining their light on over 200 Rescue Dogs! We talk to The Big Bang Theory's Kaley Cuoco, Dancing with the Stars' Carrie Ann Inaba, Hot in Cleveland's Wendie Malick, multi Grammy Winner Emmylou Harris and many more about the programs they create and the work they do to highlight rescue. Meet US Marine pilot Alisa Johnson's Dogs on Deployment. 'Unchain' dogs with the Sam Simon Award Winners Fences for Fido! And, Wings of Rescue flies 1,000 dogs right from the show across the US to Forever Homes! Celebrate Dog Rescue! On this Super Smiley Adventure!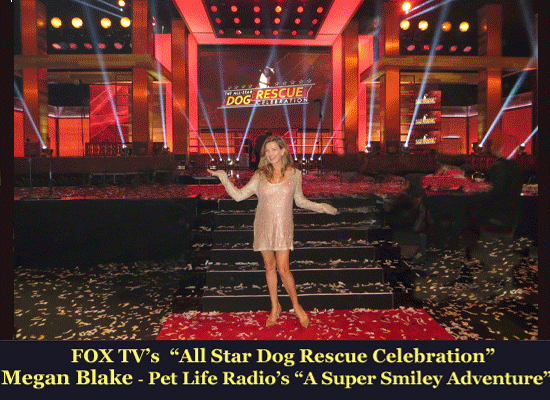 Kaley Cuoco
Kaley Christine Cuoco was born in Camarillo, California, to Layne Ann (Wingate) and Gary Carmine Cuoco, a realtor. She is of Italian (father) and German and English (mother) descent. A model and commercial actress from the age of 6, Cuoco's first major role was in the TV movie Quicksand: No Escape (1992) with Donald Sutherland and Tim Matheson. Her other television credits include guest-starring on the series Ellen (1994) (where she played "little Ellen" to the Ellen DeGeneres character), Northern Exposure (1990), Don't Forget Your Toothbrush (1995) and My So-Called Life (1994). In addition, she played a leading role in the miniseries, Mr. Murder (1998). Cuoco has appeared in the feature films Lucky 13 (2005), Picture Perfect (1997) and Virtuosity (1995). On stage, she has performed in Los Angeles-area productions of "Annie" and "Fiddler on the Roof". When she's not acting, Cuoco is an avid tennis player, who consistently ranks well in Southern California Tennis Association standings as a member of a regional amateur division team. In addition, she enjoys spending time with friends, going to the mall, and hip-hop dancing. Cuoco was home-schooled, and lives in Ventura County, California with her family.
All-Star Dog Rescue Celebration
THE ALL-STAR DOG RESCUE CELEBRATION, is a one-of-a-kind event celebrating America's rescue dogs, raising awareness of dog-related issues and encouraging people to adopt rescue animals. Throughout the two-hour family-friendly special, celebrity guests will introduce the audience to adoptable rescue dogs and honor the people who dedicate their lives to caring for animals in need.
Viewers will be provided with information regarding adoptable animals in their local areas. Additionally, they will have the opportunity to make donations directly to the Petfinder Foundation, an independent nonprofit organization that supports shelters and rescue groups nationwide. Viewers can donate via a text number provided during the broadcast or online. Information on how to donate directly to Petfinder Foundation online can be found at fox.com/the-all-star-dog-rescue-celebration. Donations will be accepted by Petfinder Foundation during the broadcast and for a period of time after the show.
THE ALL-STAR DOG RESCUE CELEBRATION is produced by Michael Levitt Productions. Hilary Swank and Michael Levitt ("Daytime Emmy® Awards" "Skin Wars," "Billboard Music Awards") are executive producers. Get updates about THE ALL-STAR DOG RESCUE CELEBRATION on fox.com/the-all-star-dog-rescue-celebration, on Facebook at facebook.com/DogRescueOnFOX and on Twitter @DogRescueOnFOX and join the discussion using #AllStarDogRescue.